Photo: weheartit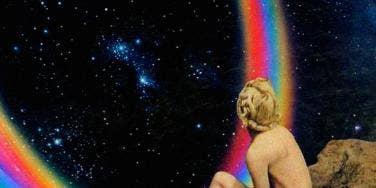 What's in the cards for your bedroom wardrobe?
From the sensual Taurus to the intense Scorpio, astrology can tell a lot about how one approaches relationships, especially when it comes to the bedroom. Find out the best lingerie styles for your zodiac sign, as told by Kim Brown Tigar from TheTravelingSageAstrology.com
Photo: Frederick's of Hollywood
Aries
You are: Bold
Go for: If there's one thing that can be said about Aries, it's that they can't be tamed, even (and especially) in the confines of a bedroom (assuming you've even agreed to stay there). When in doubt, play up your daring nature with "anything red or lacy."
Our pick: Sexy Strappy Chemise, $20
Gemini
You are: Curious
Go for: Not typically one to get stuck in her ways, Gemini is known for her playful nature. Spice things up with garters or stockings (and perhaps even a game).
Our pick: Dita Von Teese Madame X Unlined Underwire Corset, $150
Cancer
You are: Nurturing
Go for: Cancers are natural-born lovers with a serious soft side. "Opt for something flannel, a baby doll cut, or a long night shirt," says Tigar.
Our pick: In Bloom by Jonquil Satin Noir Chemise, $29
Photo: Frederick's of Hollywood
Leo
You are: Dramatic
Go for: Lights, camera, action! If you're a Leo, you're not afraid to be in the spotlight wherever you go, and thanks to your big heart, that includes the bedroom. "A Leo would fare well with lingerie that steals the show, maybe even role-playing clothes," says Tigar.
Our pick: Annabelle Dotted Mesh Apron, $27
Libra
You are: Charming
Go for: Cue the candles! Many a Libra have been regarded as a hopeless romantic, or at least a serious charmer. "They would like anything with hearts on it," says Tigar.
Our pick: Wildfox Valentines Heart Ruffle Romper, $171
Scorpio
You are: Intense
Go for: We can't confirm whether or not the leads of Fifty Shades of Grey were Scorpios, but it certainly wouldn't come as a surprise. That's because Scorpios are known for taking things to the extreme. "You may want to venture into leather, whips and even S&M," says Tigar.
Our pick: Faux Leather and Lace Bra and Garter Panty, $60
Sagittarius
You are: Fun-loving
Go for: If you're a Sag, you're likely happy-go-lucky (as long as you don't feel like you're at the risk of being fenced in). "Opt for lingerie styles that are freeing. Think boy shorts, not thongs," says Tigar.
Our pick: Maidenform One Fabulous Fit Demi Bra and Lace-Trim Boyshorts, $48 for set
Capricorn
You are: Disciplined
Go for: Capricorns may appreciate business, but that doesn't mean they can't enjoy a little pleasure. "The loyal sign would feel at home in a women's or men's button-up," says Tigar.
Our pick: Victoria's Secret Afterhours Satin Sleepshirt, now $30
Photo: Frederick's of Hollywood
Aquarius
You are: Rebellious
Go for: If you're an Aquarius, Tigar says you may very well feel best just going commando (or at least close to it). "This sign also has a penchant for the eccentric."
Our pick: Gisele Halter Neck Sheer Teddy, $49
Pisces
You are: A dreamer
Go for: Just like a fish, this free-spirited sign needs room to move around. "You're best suited for a loose-fitting style. Think: sheer and flowy," says Tigar.
Our pick: Victoria's Secret Dream Angels Sheer Babydoll, $25
Previous
Next
BEGIN