Photo: instagram.com/yorkdalestyle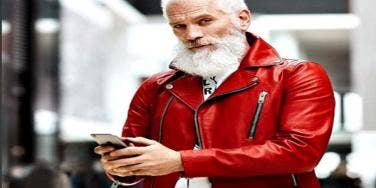 We're happy to sit on HIS lap. *wink*
Santa Claus had a fashion makeover. No longer is he sporting a huge belly, nor does he wear a suit made out of fake fur. No, this new Santa is extremely fit and has intensely blue eyes. One thing remains of his previous look: he still has the bushy white beard, which is totally on trend these days.
Model Paul Mason (aka The Fashion Santa) can be found at Toronto's Yorkdale Mall. While the Fashion Santa isn't set up in a cardboard facsimile of Santa's North Pole home, having children sitting on his lap and giving him their Christmas lists, he still has a heart of gold.
You see, if you take a selfie with this Santa and post it on social media using the hashtag #YorkdaleFashionSanta, YorkDale will donate $1 to the SickKids Foundation. Mason hasn't always been known as looking like Santa's younger, thinner brother; one day he just decided to stop shaving and liked the look so much that he kept it.
While you may not be able to make it out to the Yorkdale Mall, you can still enjoy these pictures of the Fashion Santa.
1. Red is his color.
He dumped the red suit for a stylin' red leather jacket.
2. Christmas cheer is in full swing.
3. He's clearly the sexiest Santa on the planet.
Naughty or nice, it's all good for the Fashion Santa.
4. He gets all the ladies.
Everyone at the mall saw mommy kissing Santa Claus.
5. Is he Santa or a model?
Watch out, Zoolander! The Fashion Santa has his own signature looks.
6. He even loves animals.
Naturally, Fashion Santa is kind to animals.
7. And he loves his fans.
Sharing the Christmas spirit with the Fashion Santa.
8. He's all bundled up for his sleigh ride.
Canada isn't as cold as the North Pole, but it still gets pretty chilly.
9. He's gotta catch the Polar Express.
Santa's too busy to travel by sleigh.
10. There's no doubt that he's lumbersexual.
It's not Christmas without a Christmas tree.
11. He's wishing everyone a Merry Christmas.
Did we mention that he loves his fans?
12. But first, he needs to take a selfie.
Yes, even Santa takes selfies.
13. And here he is, dressed in winter white.
Fashion Santa is a badass and rocks whatever he's wearing.
Previous
Next
BEGIN