Photo: Twentieth Century Fox / Twitter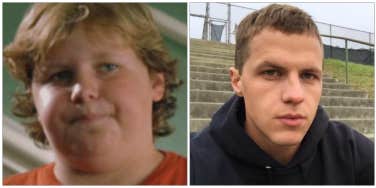 Holy transformation.
Cheaper by the Dozen was released in 2003, and the plot was pretty much just a father taking care of all 12 of his kids alone while the mother was away at work. It had a lovable cast including Steve Martin as the goofy dad, Ashton Kutcher as the clueless boyfriend, and Hilary Duff as one of the many Baker daughters.
Although we know where these stars are today, what do the lesser-known actors look like now and what are they up to? We've got the answers! Here's the cast of Cheaper by the Dozen today. Get ready to feel old.
Photo: Twentieth Century Fox
1. Steve Martin THEN
The lovable comedian played the father of 12 who had to keep a careful eye on them while their mother was away. So, what does he look like now?
Steve Martin NOW
Thankfully, he's still working hard in the business by writing and acting. Besides a few more wrinkles he practically looks the same.
Photo: Twentieth Century Fox
2. Bonnie Hunt THEN
The beautiful actress played Kate, mother of 12. But you may not have seen her much since.
Photo: Twitter/BonnieHunt_real
Bonnie Hunt NOW
She still looks the same. Chances are you've heard her voice more than seen her face. She voice acted on Sofia the First as Aunt Tilly, and was in Monsters University, Cars, and will be in the upcoming Toy Story 4.
Photo: Twentieth Century Fox
3. Piper Perabo THEN
The actress played Nora, the oldest Baker child, who comes back home to help her dad with her siblings.
Photo: Instagram.com/realpiperperabo
Piper Perabo NOW
She hasn't changed a bit. You've probably seen her headlining the show Covert Affairs as Annie Walker. She has since returned to acting in movies.
Photo: Twentieth Century Fox
4. Tom Welling THEN
Who could forget the hot Charlie Baker? The only complaint we could have about the movies is that there wasn't enough of him.
Photo: Summit Entertainment
Tom Welling NOW
Although he's not on Smallville anymore, he's still acting. He was recently in Draft Day in 2014, and his next movie won't come out until next year.
Photo: Twentieth Century Fox
5. Hilary Duff THEN
The Disney star was one of the many famous faces of the cast, playing Lorraine.
Photo: Twitter/HilaryDuff
Hilary Duff NOW
The actress still looks the same and is currently one of the leads on the TV show Younger.
Photo: Twentieth Century Fox
6. Kevin G. Schmidt THEN
Prepare yourself for one of the biggest transformations of the cast. The child star played Henry but looks nothing like this now.
Photo: Twitter/kevingschmidt
Kevin G. Schmidt NOW
Yup, the actor is all grown up and pretty unrecognizable. He's still acting and was a regular on The Young and the Restless as Noah Newman until 2012.
Photo: Twentieth Century Fox
7. Alyson Stoner THEN
The child star was everywhere from Disney to Missy Elliott music videos when she was younger.
Photo: Instagram/AlysonStoner
Alyson Stoner NOW
She's still working and was recently voicing the character, Isabella Shapiro-Garcia on Phineas and Ferb. She's also singing.
Photo: Twentieth Century Fox
8. Jacob Smith THEN
The adorable young actor played Jake, who you probably remember was really into skating. He also played the lead in Small Soldiers.
Photo: Twitter/passionfuels
Jacob Smith NOW
He kind of looks like Josh Hutcherson. It seems like he chose to go down a different path from acting. His last job was in 2006 and a lot of his social media accounts are now private.
Photo: Twentieth Century Fox
9. Liliana Mumy THEN
The little actress played the assertive redhead, Jessica.
Photo: Instagram/lilianamumy
Liliana Mumy NOW
Now she's all grown up, but pretty much has the same face. She's still acting and has been on the series Fresh off the Boat and Bravest Warriors.
Photo: Twentieth Century Fox
10. Morgan York THEN
A lot of the scenes with Jessica had Kim by her side. However, you probably wouldn't recognize her now.
Photo: Twitter/morganyorkwrite
Morgan York NOW
She's rocking a shorter and darker hairstyle now! She's also less focused on acting and is writing YA, adult, and fantasy stories.
Photo: Twentieth Century Fox
11. Forrest Landis THEN
Poor Mark. His character has a scene where his dad totally forgets his name and can only get the attention of his pet frog.
Photo: Facebook/Forrest Landis
Forrest Landis NOW
He's another child actor that ditched the business. He's absent on social media but it looks like he's more into fishing than entertaining.
Photo: Twentieth Century Fox
12. Blake Woodruff THEN
The young actor played Mike who also loved roller blades and hockey.
Photo: Twitter/BlakeMWoodruff
Blake Woodruff NOW
He's handsome, but is one of the many who didn't really continue to pursue acting. He only did one job after the sequel and that was 2007's Whisper.
Photo: Twentieth Century Fox
13. Brent and Shane Kinsman THEN
Who could forget the twins? They were youngest of the group and also got into trouble. Would you recognize them today?
Photo: Twitter/kinsman_shane
Brent and Shane Kinsman NOW
This is a recent picture of them celebrating their birthday. Their last time acting was on Desperate Housewives in 2011.
Previous
Next
BEGIN