Photo: kristyleighdolls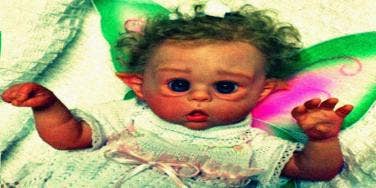 CREEPY.
There are scary dolls, and then there are scary AF dolls. And artist Kristy Leigh creates dolls that will probably unnerve, unsettle, and disturb you.
Every artist has their own unique way to express their creativity; Kristy Leigh creates dolls. Some of these dolls are extremely life-like — almost too much so — while others border on the bizarre.
Art is subjective and unpredictable. What one person sees as beautiful, another thinks hideous, and each person is correct. If art is supposed to evoke a reaction and/or a feeling, these dolls do that by evoking feelings of terror. Some will make the hairs on the back of your neck stand up, while others will sadden you.
Check out these unique and quite disconcerting dolls.
1. Santa's little elf
Festive ... and frightening.
2. Elf/fairy/baby combo
Is it an elf or is it a baby? Do you care?
3. Life-like babies
Yes, even scary dolls need their beauty rest.
4. Primate in pink
Not sure who the target audience is for a monkey baby doll...
5. Newborn
Would you practice being a parent with this doll?
6. Toddler and pig
They kind of look alike if you look close enough.
7. Pig in leopard print
A pig baby in a pink bow isn't everybody's idea of cute.
8. Baby with eyebags
This doll doesn't look well. Actually, it doesn't look alive.
10. Baby with a nice head of hair
Why is this baby wearing a toupee? Did he pass out at the pool after too many beers?
11. Pig with a bib
No two dolls are alike (thank God).
12. Steely-eyed baby
This doll never stops watching you.
14. Less evil-looking baby
I'm almost positive this doll doesn't contain an evil spirit.
15. Another baby
She's always watching and judging you.
Previous
Next
BEGIN