Photo: weheartit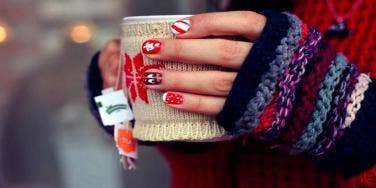 Does your mani say, "Happy Holidays?"
During the holiday season, with all the toasting and present opening, you'll want to have your manicure on point. But these nails go beyond good grooming. They're actual mini (or mani) pieces of art.
The detailed work, colors and sparkles are truly something to behold. You need to check out these super-cool holiday nails that will both amaze you and make you smile. They're spectacular!
1. Holly
All you need now is some mistletoe.
2. Reindeer
Nail art is a very creative way to express yourself, like these reindeer nails.
3. Gold and white snowflakes
Glittery nails are perfect for any party.
4. Red and gray reindeer
The pops of color really capture the holiday spirit.
5. Candy canes
Peppermint candy is yummy, but don't bite these peppermint sticks.
6. Christmas tree
Oh, Christmas tree! Oh, Christmas tree!
7. Snowman
The perfect Frosty the Snowman nails!
9. String of lights
These lights will never go out.
10. Holiday
The perfect colors that sum up this time of year.
11. Snowflakes
Every snowflake is unique ... and the same can be said for nail art.
12. Hannukah
A Menorah, dreidel, and light — everything you need to celebrate Hanukkah.
13. More reindeer
They'll guide Santa's sleigh just fine.
14. Peppermint sticks
These look good enough to eat.
15. Glitter
The layers of glitter go great together.
16. Simple gold and white
17. Starbucks
There won't be any uproar about these Starbucks nails.
19. More Hannukah
It's the festival of lights.
20. The Grinch
Don't let this Grinch steal your holiday spirit.
21. Plaid snowflakes
The snowflakes make a nice touch.
22. Kwanzaa
Jewels and intricate design help make these Kwanzaa nails pop.
23. More Kwanzaa
The details in these nails are amazing.
24. Winter wonderland
Every nail can be painted differently with something you associate with the holidays.
Previous
Next
BEGIN