Photo: Google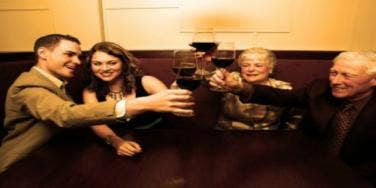 Hint: don't do anything that Ben Stiller's Meet The Parents character does.
The holidays mean lots of family time, and if you have a significant other, you could be meeting his family for the first time over the Thanksgiving, Hanukkah, or Christmas dinner.
Whether you're in a serious relationship or dating someone new, meeting the family — especially the parents — can be nerve-wracking. Thankfully, with so many worst-case scenarios and crazy families in movies, we can at least relax knowing it could be worse.
Here's some tips on what to do and what not to do from these memorable meet-the-family scenes.
1. Do Make a Second Impression
In Fever Pitch, Ben makes a poor first impression with Lindsey's parents by freaking out at dinner because he's worried he'll overhear the score to the Red Sox game he DVR'd at home. So he treats them to a golf game the next day, scoring major points and erasing the initial meeting fail.
2. Do Be Understanding
When Jamie meets Dylan's dad, who suffers from Alzheimer's disease, in Friends With Benefits, she's very accepting of Dylan and his family, just the way they are. Now that's a keeper!
3. Don't Forget to Set Ground Rules
In Failure to Launch, 35-year-old Tripp lives with his parents, who are home when he and Paula arrive for a date. Even though Tripp is using the "accidental" meeting to freak Paula out so she'll break up with him, if you really lived with your parents, you'd want to make sure they knew not to interrupt your date.
4. Do Be Yourself
In The Birdcage, Val invites his fiancée Barbara's conservative senator father and his uptight wife for dinner at his parents' home in Miami. The only problem is that Val's parents are two gay men who own a South Beach drag club. To avoid controversy, one of Val's dads decides to dress in drag and pretend to be Val's mother. The dinner is a disaster, albeit a hilarious one, and once the wig comes off, the jig is up. But after Val and Barbara explain their motives, the conservative parents understand and forgive Val and his two dads, proving you should just be yourself.
5. Don't Be Too Uptight
Jack is a neurotic New Yorker meeting his French girlfriend Marion's eccentric family in 2 Days in Paris. Between the language barrier and Marion's parents' laissez-faire attitude, Jack is too uptight and uncomfortable to relax. When you're facing a culturally different family, sometimes you just have to go with the flow for the sake of your significant other.
6. Do Be a Good Sport
When Andie meets Ben's family for the first time in How to Lose a Guy in 10 Days, she jumps right into their (card) game of bullsh*t. It loosens everyone up right off the bat, and she feels like a part of family by the end of the game.
7. Don't Get Too Close to Your Brother-in-Law
Madeleine is just trying to help when she offers to tutor her husband's married brother after meeting the family for the first time in Junebug. But he thinks she's flirting and goes in for a kiss. Try not to send mixed messages, as they can lead to disaster.
8. Do Fess Up to Accidents
Greg is doing his best to make a good impression on his future father-in-law in Meet the Parents, but his bad luck leads to disaster after disaster. Things just get worse when he tries to cover up his accidents, like replacing the family's cat with a stray who ends up destroying the house. Honesty is the best policy.
9. Don't Go Overboard With the PDA
In Father of the Bride, George is having a tough enough time learning his daughter was engaged to the man he's meeting for the first time, but the PDA just makes it doubly awkward. Keep the affection to a minimum around the family, especially the first time you meet them!
10. Don't Forget Who You're Dating
In The Family Stone, Meredith meets boyfriend Everett's family for the first time, and things don't go according to plan — to say the least. By the end of the flick, there are some unexpected couplings, which works out in the movie, but probably wouldn't in real life.
Previous
Next
BEGIN