Photo: im-your-surreal-fantasy.tumblr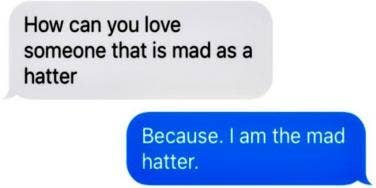 How do you text your love?
Texting has become one of the primary ways we communicate. People text enough that they become so addicted, they have to force themselves to take a break from it. Expressing one's love through poetry still happens, only it's text poetry — modern day love letters you scroll through on your phone.
Texting is definitely the language of love, and reading other people's texts of love will remind you that love is still all around us, and that each of us is worthy of being loved. Love can be stupid, foolish, obsessive, annoyingly sweet, bittersweet, and painful; yet, we desperately seek it out, no matter how much we may hurt.
Here are some examples of the impact love texts have, and how there are many different ways to say "I love you" via text.
Photo: love-knows-no-distance-ldr.tumblr
1. Food is love
Love scale: From 0 to Burger.
2. Love helps you sleep.
Tell them that you think of them every night.
Photo: heavvensinyoureyes.tumblr
3. Love is like an addiction.
Love is an addiction from which you'll never recover from.
Photo: heyimdayfloww.tumblr
4. You're my Ibuprofen.
Love is a pain reliever in and of itself.
Photo: heyimdayfloww.tumblr
5. Saying I love you can be simple.
In the end, it's all about letting them know you care.
Photo: craig-is-my-waifu.tumblr
6. Imperfections are perfect.
Make them understand that they are worthy of your love.
Photo: wannafloodtheocean.tumblr
7. Finding love is the best thing to ever happen for some people.
Finding the love of your life is like finding gold.
Photo: princesslafae.tumblr
8. Love is like a rainbow.
Someone you love can say the cheesiest thing ever, but to your eyes it's poetry.
Photo: itsall4lov3.tumblr
9. A silly way to propose
10. There's certainty in being in love.
Let them know you're absolutely certain of your love.
Photo: kissing-in-carsxx.tumblr
11. You were born to love.
Sometimes, declarations of love make no sense at all.
Photo: justainternetgirl.tumblr
12. Emojis can express love, too.
Add some fun emojis to make a conversation even more loving.
Photo: justainternetgirl.tumblr
13. So many terms of endearment.
Baby, bae, babe all mean the same thing — there's one person that you adore.
Photo: myrelationshipsadvice.tumblr
14. Life is nothing without your love.
Life without love = emptiness.
Photo: hipsterheadedangel.tumblr
15. Love can be so strong that you just can't stop expressing it.
You may not be able to find the right words to express your love, but keep trying.
Photo: im-your-surreal-fantasy.tumblr
16. The ultimate plot twist
It's fantastic when the object of your love is just as crazy in love as you are.
Previous
Next
BEGIN