Photo: ​ARIllustration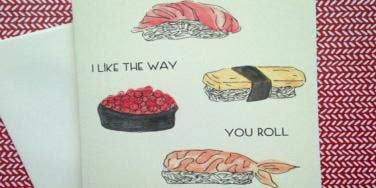 Every foodie will love these.
We can all use a laugh every now and then, and we've collected some cards that are sure to tickle the funny bone of your favorite foodie. This is one time where puns aren't only allowed, they're encouraged. Some of these cards are silly, inappropriate, groan-worthy, or just plain stupid.
Lots of your favorite foods are included like Indian naan bread, pho soup, dim sum, and the always yummy sushi. Maybe these cards will help you with that ever-important question: what should you have for dinner tonight?
1. Jennifer Lawrence's fries
Look at my eyes, not my fries.
2. A nice big bowl of mac and cheese
More mac and cheese, please.
3. Udon noodles
The best way to say "I love you" is with a bowl of noodles.
4. Eating too much meat
What begins with meat sweats ends in a food coma.
5. Naan bread
Too much bread? That's naan-sense.
6. Sriracha
Is it hot enough for you?
8. Chex cereal
Are you a cereal monogamist?
10. Dim Sum
I take a dim view of this pun.
11. Pho
Funny, except it's pronounced fuh.
13. A Portland food baby
Portland is the perfect place to have a food baby.
14. You're grate!
You're grating on my nerves.
15. Overeating
When you love food, you have to be prepared to suffer the consequences of your obsession.
16. Foodie friends
Don't forget to invite Arnold Palmer to this party.
17. Truffles
Truffles make everything better, even funny food cards.
19. S'mores
Please, may I have s'more?
20. The toddler diet
Another toddler diet tip: throw your food on the floor, rather than eat it.
Previous
Next
BEGIN