Photo: weheartit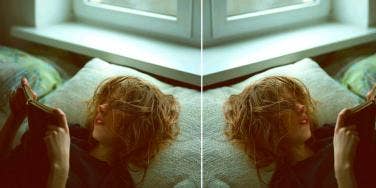 Need a book to read by the fire? We've got you set.
If you've already binge-watched all of Jessica Jones and are feeling lost, don't fret! We have more for you to binge on to fill the void of whatever show took over your life.
This list of 12 amazing books for incredible women are sure to satisfy your craving to get lost in an engrossing story. From intense family dramas to twisted fantasy tales, and from sexy thrillers to hilarious memoirs, we've got the list of binge-worthy reads for you to dive into.
So go on, and break out your sweatpants and fuzzy socks, and prepare to get cozy with these books.
1. Wendy Darling by Colleen Oakes
When the dazzling, god-like Peter Pan lets the Darling children follow him to Neverland, Wendy is intoxicated by the Lost Boy's paradise filled with mermaids, pirates and magic.
But soon she realizes that the island is built on blood and greed, and she becomes desperate to escape the island of dreams that's quickly turning into an irreversible nightmare.
Buy it here.
2. Not On Fire, But Burning by Greg Hrbek
After 20-year-old Skylar sees the incident — the terrorist attack on the Golden Gate Bridge — from her window, her last thought is of her little brother, Dorian.
Now, in post-incident America, 12-year-old Dorian is seeking the truth behind his sister's death and the reason his parents pretend she never existed, even if it turns his beliefs upside down.
Buy it here.
3. Sleeping with the Enemy (An Out Of Bounds Novel) by Tracy Solheim
Jay McManus, dot-com millionaire and owner of the pro-football team Baltimore Blaze, isn't initially thrilled to be defended by former flame Bridgett Janik when the team is sued by its cheerleaders.
But with a mysterious blogger bent on destroying Jay's reputation, and with Bridgett and Jay's relationship heating up again, they will have to decide if there's a future for them beyond sleeping with the enemy.
Buy it here.
4. Pretending to Dance by Diane Chamberlain
Going through the adoption process with her husband is making it difficult for Molly Arnette to keep the trauma of her childhood from twenty years ago a secret.
When a shocking and devastating event left Molly distrustful of even her closest loved ones, and with the revelation that the mother she thought was dead is actually alive, Molly discovers that her family of pretenders have darker secrets than she suspected.
Buy it here.
5. The Great Bravura by Jill Dearman
Bravura and Susie are friends, magicians and occasional bedmates, but when they hire Lena to add some pizzazz to their act, Bravura can't help but fall in love with the free spirit.
Then, when something goes wrong in the "Disappearing Box" act and Susie disappears for real, Bravura decides that finding her friend, even if it means incriminating herself and Lena, is the only way to find Susie — hopefully alive.
Buy it here.
6. How to Grow an Addict by J.A. Wright
Randall Grange's parents introduced their daughter to tranquilizers and alcohol before she was a teenager, and now, years later, she's unknowingly checked herself into a treatment center.
An addict by 23, Randall is in denial that she can't live without booze or pills, and is in more trouble than she thought.
Buy it here.
7. Fates and Furies by Lauren Groff
Lotto and Mathilde are beautiful, glamorous, and madly in love at age 22, and after a decade of marriage, their relationship is still the remarkable, complicated envy of their friends.
But there are two sides to every story and relationship in this exploration of marriage, power, betrayal, love and creativity.
Buy it here.
8. Savage Lane by Jason Starr
Karen Daily has two kids, is recently divorced, dating again and is happy for the first time in years. Mark and Deb Berman, Karen's neighbors, are both unhappy in their marriage.
But as his relationship with Deb gets worse, Marks obsession with Karen grows in this domestic thriller.
Buy it here.
9. Hunger Makes Me a Modern Girl: A Memoir by Carrie Brownstein
The feminist, punk-rock band Sleater-Kinney was once labeled "America's best rock band," and would go on to define pop culture and music of the 1990s.
Now, Carrie Brownstein is sharing her experience of finding home, community and identity in the world of rock and roll.
Buy it here.
10. Gold Fame Citrus by Claire Vaye Watkins
Drought has transformed Southern California into a surreal, barren place where most "Mojavs" are barred from migrating to lusher provinces.
For Luz and Ray, two young Mojavs squatting in an abandoned Los Angeles mansion, their budding young love used to be enough. But now they're thirsty for a better future, and the road to paradise is always dangerous.
Buy it here.
11. Did You Ever Have A Family by Bill Clegg
June Reid loses everything the night before her daughter's wedding, when a disaster kills her daughter and her fiancé, June's ex-husband, and her boyfriend.
With no direction and no family, June drives across the country and finds forgiveness, hope and family through surprising connections.
Buy it here.
12. Pretty Girls by Karin Slaughter
When Claire and Lydia's sister Julia vanished as a teenager 20 years ago, the sisters stopped talking and went their separate ways.
But when Claire's millionaire husband is murdered and possibly linked to Julia's disappearance, Claire and Lydia form a hesitant truce to find redemption, revenge and the truth about why their family was ripped apart.
Buy it here.
Previous
Next
BEGIN