Photo: weheartit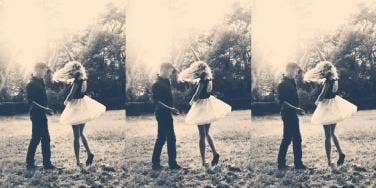 Just in case you weren't nervous enough about the actual date.
When you've done enough googly-eyeing, and you finally work up the courage to ask that special someone on a date, you might think you're in the clear. Well, you're wrong.
You still have to plan the date; and nothing is more cumbersome than trying to figure out the perfect location. Do you want to appear creative? Considerate? Thoughtful? Chances are you don't want it to be a disaster, so at least that's something to chew on.
The point is, you want to be impressive. Here's a guide to some of the most common date locations and what they might say about you.
Concert
If the music is good, the company is even better. Did your date bring you to see their favorite band? If so, chalk one up for thoughtfulness. Music is something that many people hold close, especially in relationships. This could be a night you'll remember for a while.
Unless, of course, the music happens to be terrible, or the crowd is rowdy, or the venue sucks, and you'll question what you saw in this person in the first place.
Fine Dining
Proceed with caution when thinking about this one. You may want your date to view you as the fancy, proper person you are, but not too fancy and too proper. Remember, there's a fine line between taking someone out for a nice meal and just trying too hard.
This is a date for those people that have watched the spaghetti scene from Lady and the Tramp and call that romantic. And those people that think that money is the way to the heart. First date? No. Future dates? Definitely (and if not, you're dating a cheapskate—we'll get to that later).
The Thrift Store
The first thing that comes to mind here is the word cheap, and it's not just the clothes. You need to see into the future for a second—what do you think your future dates might be? Scrounging for food in a dumpster? Running around the junkyard to see what will look decent in a cramped apartment?
Then again… thrift stores are all about individuality. Instead of wearing the latest cliché trends, your date is decked out in the cutest outfit from thrift stores all over town. And the hour or two you'll spend obsessing over strange clothes? You might as well be the next indie movie couple.
The Museum
Now this can go one of two ways—excellent, or comically disastrous. How could a date to a museum possibly go wrong, you ask? Here are a couple of reasons:
The museum is just depressing (like the Holocaust museum).
It's wayyyy too big to cover in a few hours.
They can get quite crowded on many days of the week.
So, if you're fortunate enough to live in a town with an abundance of museums, put some thought into which one you go to. The more quirky and compact, the better. An hour and 15 minutes is an ideal time to wander around without getting "museum brain."
The Park/Hiking
This location is fairly obvious as to what type of person you might continue to date: theylove the outdoors. The birds are chirping, it's a gorgeous day, and your date just might surprise you with flowers or a lovely lookout spot.
Just make sure you're up to the challenge, though, especially if it's hiking. While your date may be physically capable of scaling rocks like Spiderman, you might not be so fortunate. Know what you're getting yourself into.
The Amusement Park
Looks like your date is the thrill-seeking type. That's totally okay, if you don't mind being dragged on the same rollercoaster five times in a row. Also, think about having to sit next to someone that spends the majority of the day shrieking into your ear. Do you really want to hear that on a first date?
These types of dates are not for the faint of heart… or stomach.
The Diner
It's that little lunchbox place that everyone always talks about but never has the time to go to. When you finally reach it, however, you'll find that diners are perfect for wee-hour conversations and puppy-eye gazes. But while the 50s decor may make you feel like you're a member of yesteryear, don't let it fool you so easily.
Make sure your date is the type who won't want to split that cheap bill—and there might be promise of fancier places in the future. Ask them about that fine dining place and see what they think.
The Bar
An alcoholic's dream. No, seriously. Think about it—your date is taking you to the only place they feel accepted. A place with dim lighting, creepy people, and drinks that make you forget about all of that.
Your date might appear to be smooth, inviting you out for a drink, but unless they'recompletely focused on you the whole time, it could mean trouble. Especially if they can't tell you apart from the other people they're flirting with.
There are numerous locations you can go for a first date. If you want to start off on the right foot, it may be helpful for you to remember these locations so you know which type of impression you want to leave! Most importantly, no matter what location you choose, having fun on the first date is something that will most definitely lighten the mood and set the tone of the dates to come.
Previous
Next
BEGIN