Photo: Getty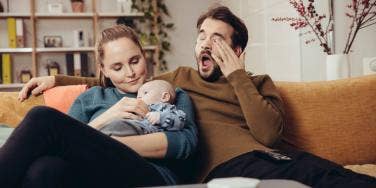 The messy and hilarious side of parenting.
Much of what we see on Instagram are carefully staged photos depicting beautiful images of perfect families of always-on-point parents, well-behaved children, and flawless homes — Nothing like the messy, chaotic, and cluttered lives that real people have.
People need to see a more realistic and unfiltered view of parenting.
Knowing this, Real Simple started the WomenIRL Instagram account that has actual pictures submitted by women showing what life with kids is really like: the exhaustion, the rare breaks, the joy, and the messy, complicated love.
Lori Leibovich, editor of Real Simple (and former lifestyle editor at The Huffington Post) says that women were on board from the start. They've been tagging photos of road trips, food becoming playthings, and proving that most parents have to make peace with dirt and mess.
"If we make a conscious decision to post images that show our vulnerabilities and foibles, we will begin to chip away at the perfection that infects so much of social media. By seeing these real moments we will realize that we're all just doing our best to get through, and that life is a lot funnier when it's not filtered," Leibovich said.
Here are 19 photos of what parenthood really looks like.
Photo: Instagram.com/tripletmommyplus3
1. Laundry, laundry ... and more laundry
The laundry is never-ending, and doesn't end up in the hamper where it's supposed to be.
Photo: Instagram.com/missmargoprice
2. Bloody noses and long car rides
You should see the other guy...
Photo: Instagram.com/womenirl
3. Kicking mommy in the head
Good thing this mom has a sense of humor.
Photo: Instagram.com/my_life_in_the_rock
4. Making a DIY eye-mask
A girl needs her beauty rest.
Photo: Instagram.com/jlbcab
5. A birds eye view of parenting
Some people just call this Monday.
Photo: Instagram.com/ciredot
6. Liquid courage with the help of Legos
Whether you're a parent or a storm trooper, you deserve a break sometimes.
Photo: Instagram.com/momsgonnasnap
7. All that playing is exhausting
We think he had a little too much fun.
Photo: Instagram.com/alison_fightnforlife
8. What happens when kids distract mom long enough
Photo: Instagram.com/meganexpecting
9. The making of a future professional organizer
Seriously, you have too much stuff.
Photo: Instagram.com/rdillon517
10. The look of disappointment and sadness
Photo: Instagram.com/womenirl
11. Over-soaping the dishwasher
We can only imagine what the washing machine looks like.
Photo: Instagram.com/km4sm
12. Making offerings to the Mom-God
Nothing makes you feel better faster than being covered in toys.
Photo: Instagram.com/bmoorefun
13. Sneaking in a drink at bath time
It's always happy hour during bath time.
Photo: Instagram.com/clemke08
14. Developing a cruel honesty
Photo: Instagram.com/ladyleff
15. Being an artist is hard work.
"What am I doing? I'm making art!"
Photo: Instagram.com/heatherlikes
16. The perfect way to travel
Don't you wish all kids on the plane were like this?
Photo: Instagram.com/realplasticwife
17. Taking snuggle time to another level
"Close your mouth, Mommy! You're snoring."
Photo: Instagram.com/womenirl
18. Potty training gone wrong
Paper towels work as well as toilet paper, right?
Photo: Instagram.com/stomlin21
19. In the end, parenting is love.
Parenting is made up of some little accidents — and a lot of love.
Previous
Next
BEGIN