Photo: etsy.com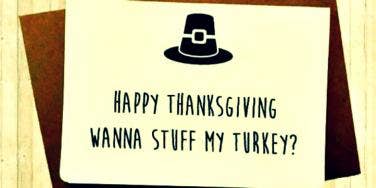 Ho, ho, ho.
The holidays will be here before you know it and whether you celebrate Hanukkah, Christmas, Kwanzaa or a combination of all of them, it's a time for laughter.
Here are some funny, naughty, and down right rude holiday greeting cards to help you get your merry on. Some you can purchase, while others you can just lose yourself in the wrongness of. These will make you wonder how anyone could seriously think any of these were appropriate cards to send to family and friends, but it's all in fun.
1. Wanna stuff my turkey?
Thanksgiving is a time of thanks, gratitude, and getting stuffed.
2. Dear Santa...
Birth control, Xanax, and booze are perfect stocking-stuffers.
3. I love your balls.
Whether they're ornaments or external organs on a man, you can never go wrong without some shiny balls.
4. Let's be naughty and save Santa the trip.
Being naughty is much more fun than being nice.
5. Having a little family fun
Handle all your packages with care.
6. Merry Christmas, ya filthy animal!
Celebrate the holidays in your own Home Alone style.
7. When I think about you, I touch my elf.
Elves can be nasty, so watch your back.
8. I'll cradle YOUR dreidel.
Get ready for eight crazy nights!
9. Even Santa needs a bathroom break.
Christmas Eve is a busy night, and Santa has to take a breather whenever (and wherever) he can.
10. The most awkward family Christmas card ever...
Now that you've seen this family's holiday card, you can never unsee it.
11. I'm a giver of head.
Use your imagination when it comes to giving that special someone the perfect gift.
12. You're well hung.
If the ornament is well hung, it's anybody's guess about the hanger.
13. Can I have your number?
It's always a good idea to be specific when you tell Santa what you want.
14. Rudolph has no f*cks to give.
Rudy the Reindeer was even less popular than Rudolph the Reindeer.
Photo: thenaughtylittlecardshop
15. Thanks, Jesus!
No matter which holiday you celebrate, at least you can enjoy the time off.
Previous
Next
BEGIN