Photo: weheartit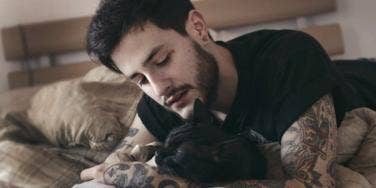 Because No Shave November isn't over just yet.
Winter is fast approaching, and with the cold weather we need to take care of our skin a little better. Ladies have that role completely fulfilled, but the men in our lives are a bit clueless.
Being a man does not excuse you from dry skin, fine lines, and early signs of aging. Trust me, we want you to take care of yourself. There is nothing sexier than a man with a clean face, tamed beard, and a musky scent.
We've highlighted all of our favorite products for the men in your life - if they are apprehensive on spending $60 on a moisturizer, gift it to them for Christmas. They'll understand in due time.
Dr. Harris Shaving Set
Every man needs a quality shaving set - we suggest Dr. Harris' Shaving Set, complete with a Mach 3 blade and a 14,000 bristle brush. The set includes a chrome lathering bowl and hanging brush stand which you can pare perfectly with the Fellow Barber Shave Regime set.
Price: $395
Baxter Deoderant
Every man needs a good deodorant, one that won't stain his clothes, is aluminum free and smells amazing. Try Baxter's clean citrus and herbal musk-scented deodorant, a top seller. It's specifically made for sensitive skin so it won't leave red rashes after you exercise or sting.
Price: $18
Shiseido Men Total Revitalizer
A complete and total moisturizer that energizes skin and boots its ability to defy dryness, dullness, lines, and other signs of aging. During the winter months you will need to bring new life to your fatigued skin with their damage defense complex, skin invigorating botanicals and vitamin E derivatives. The moisture level in your skin will last for a whole 24 hours, something we could all use in these coming cold months.
Price: $47.99
Kevin Murphy Thick.Again
Thick.Again is the breakthrough formula by Kevin Murphy that delivers thicker hair and prevents damage. It's rich in Oleanic acid which helps fortify and strengthen the hair at the root. Flavored with Citrus Flavonoids, Ginger Root Nettle and Parsley Extract, the spray should be used on the roots and scalp and worked through with hands. If you're worried about thinning and falling hair, try this go-to product. If that doesn't work, then you might need to take hair supplement pills.
Price: $42.55
Fellow Barber Shave Regime
Fellow Barber's Shave Regime consists of a shave cream, aftershave tonic and aftershave lotion. The light and airy formula is perfect for any shave regime, whether you have a brush or are using your hands. The product reactivates with water and glides smoothly, not clogging your razor. All three are alcohol free, paraben free, sulfate free and are not tested on animals.
Price: $60
Molton Brown 4-In-1 Sport Wash
On your way to the gym? Throw Molton Brown's 4-in-1 Sport Wash in your gym bag and head out. The 4-in-1 sport wash can be used for face, body, hair, and as a shave gel and is blended with cassia bark and zesty lime, skin conditioners and guar gum to soften stubble for the closest shave. It's the perfect all-round men's grooming product for those who hate having too many beauty products in their bathroom.
Price: $24
Every Man Jack Face Wash
Use a face scrub every night and morning to improve the quality and clarity of your skin and to stop breakouts. Salicylic Acid in the scrub prevents breakouts and the coconut surfactants gently clean. The scrub also contains aloe, chamomile and glycerin to sooth and hydrate. It's the only scrub you need in your shower - taking care of your skin should be a priority no matter your age. The younger you start the better it will be for you as you age.
Price: $6
Davines Energizing Shampoo
We all know you're not supposed to wash your hair every day because our natural oils help hold the weight and add texture to hair. Two or three times a week, when you do shampoo, you should be using a gentle cleanser that stimulates micro-circulation and increases the mobilization of toxins. Davines Energizing Shampoo contains beta-glucans, which boost the protection of cells, and caffeine, which improves blood circulation. If that's not enough convincing, 1% of your purchase will be donated to 1% For the Planet to support environmental charities.
Price: $13.90
Kiehl's Anti-Wrinkle Cream
Use this chestnut extract and soy anti-wrinkle cream before bed every night to hydrate and refresh your skin while you sleep. You can use it in the morning as well to combat fatigue. Skin appears firmer and the look of wrinkles diminish significantly. As a bonus it's enriched with Vitamin C & E as well as extracts from citrus fruits.
Price: $36
Sachajuan Hair Paste
This hair paste is one of our favorites and is conveniently unisex, so don't get mad if your S.O. starts dipping her fingers in there - It's hard to resist. The paste pairs a strong hold with flexibility, so if you're looking to change styles mid-day you don't have to worry about flaky white product showing up on your shoulders or in your strands. The paste doesn't lock any hair into place but instead gives it enough texture to tame fly-aways and still look approachable (and touchable).
Price: $38.99
Evo Body Cream & Shave Creme
This duo is ideal for sensitive skin as the shaving creme softens and lubricates the skin while the body creme is loaded with Macadamia Nut oil to help sooth the skin even more. The clean fragrance and quick absorbency add a nice touch, as does the shaving creme's burn and rash prevention. And the fun quips printed on each of their products? Not too bad a touch.
Prices: Body Cream - $24.95
Shaving Creme - $24.95
Previous
Next
BEGIN