Photo: weheartit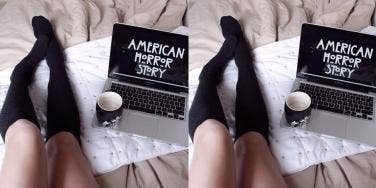 The best of what's coming and going in November.
Crisp leaves, biting wind, and razors traded out for leggings. We're all deep into autumn, meaning we're also all feeling the need to stay in with a blanket, a hot drink, and every movie and show imaginable. All those "Netflix and chill" sessions are bound to spike up with all this cuddle weather! This particular dating scene may have gotten a less than favorable reputation, but really, if you're actually going to watch some awesome movies and shows on Netflix with someone else willing to do so, it's pretty awesome.
Whether you're chilling alone, or snuggling up with your favorite cuddle buddy, this list is a great starting point for an amazing day in bed or on the couch getting lost in the realm of Netflix this month. Not to mention that our good old friend Netflix has a ton of new movies being added to their library and a bunch leaving the streaming service.
Really, how does anyone expect us to go out and about with Netflix so urgently calling out to us?
Grab your popcorn, hot chocolate, and whoever it is you want right next to you and chill out with what's coming in, what's going out, and what's just necessary to watch.
1. Master of None (Arrived November 6)
A brand spanking new show to Netflix, starring the loveable co-star of the beloved Parks & Rec and author of Modern Romance, Aziz Ansari. Master of None shows Aziz stumbling through modern dating in a perfectly comedic and awkwardly relatable way. Cuddle up and giggle with your boo over the hilarity that is Aziz Ansari. Get comfortable and laugh together!
9. American Horror Story
American Horror Story seasons 1 through 4 are now available on Netflix, meaning you have 51 episodes to binge watch, my friends. FIFTY-ONE!
8. Amélie
Amélie, is romantic-comedy with a very artistic twist ... and French subtitles. It's a feel good movie you simply have to share with someone.
7. Zoolander
Zoolander 2 is scheduled to come out this February, so you and your cuddle-buddy might want to refresh your memory with the hilarious Zoolander, or experience it for the first time together. Laughter is one of the most bonding activities.
6. Breakfast at Tiffany's
Isn't it time for your guy (or gal) to see what all the fuss is about Audrey Hepburn? The timeless classic Breakfast at Tiffany's should show him or her the light.
5. The Terminator
No doubt about it, The Terminator is a classic dude movie. Sit back and enjoy the 1980s-level explosions and graphics or make fun of them. Either way, you'll have a great time.
4. Kill Bill Volume 1 and 2
Got 4+ hours to kill? You can't watch Kill Bill Volume 1 without also watching Kill Bill Volume 2. It's a cardinal rule! These two movies have all the excitement you need, and they kind of make you feel like you've been doing a lot of amazing things even though you've just been laying around watching Netflix. Plus, ladies get the satisfaction of watching other women be awesomely badass, guys get the same satisfaction.
3. Steve Jobs The Lost Interview (Leaving November 22)
If you haven't already seen Steve Jobs: The Lost Interview, now would be great excuse to insist on sharing some popcorn and watching it. The popular documentary is going to be gone by November 22. Don't miss it!
2. People Places Things (arriving November 15)
First shown at the Sundance Film Festival of 2015, People Places Things premiers on Netflix on November 15 and tells the story of a newly single dad trying to sort out his new single dad life. What's more chill than watching other people figure out their lives?
10. Sharknado
Sharknado is movie about a tornado of sharks. The entire purpose of its existence is for viewers to make fun of it. So be prepared to get your snark (er ... shark) on.
Previous
Next
BEGIN