Photo: the-open-mind.com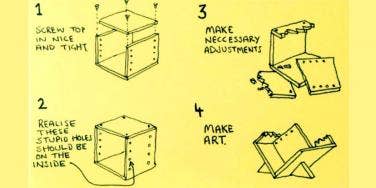 Scarily accurate.
When you were a kid, you were told what to eat, when to sleep, and you couldn't go out after 6 PM. You dreamt of being an adult, where you could do whatever you wanted, whenever you wanted. Adult life is THE life, right?
Well, maybe not. Yes, adult life has its freedom and power, but in the words of Uncle Ben from Spider-Man, "With great power comes great responsibility." So, yes, you can do whatever you want, but do you have the time, energy or money?
In this article from The Open Mind, writer Chaz Hutton sketched out these simple, hilarious, yet brutally honest truths about adult life in post-it notes.
1. Moving your laundry from the bed to the floor
You're sure that at most of those need to be washed anyway.
2. What you need to know about furniture
3. Appreciating the small things in life
4. The truth about traveling
Make everything an adventure.
5. Measuring the unconditional love of animals
Your dog is your child! Why can't people understand that?
6. Partying versus grocery shopping
Who needs friends when you can get two boxes of Lucky Charms for the low, low price of ten dollars?
7. The vicious circle of life
8. What you don't know about your dog
You know that between that case of beer or a bag of dog food, you'll end up getting the dog food.
9. The reason for every failed relationship
Just admit you need help, damnit!
10. Passing gas in public
You can do it all you want in the privacy of your own home. Have some class, sir!
11. Kanye West in a nutshell
Be sure to find someone who loves you the way Kanye loves Kanye.
12. How long the week really lasts
The weekend just never seems to come quick enough.
13. Wasting your energy levels on this BS
Thank goodness for wireless internet and laptops.
14. Zoning out when someone gives you directions
You wander around in circles, until you realize that you passed your destination 5 miles back. Maybe you should try MapQuest next time.
15. Your daily work routine
Are you working hard, or hardly working?
Previous
Next
BEGIN