Photo: weheartit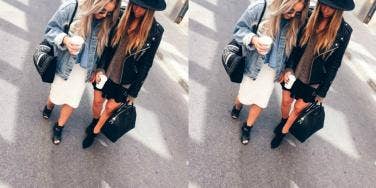 Order up!
Fall brings sweater weather, beautiful foliage, and most importantly, our favorite drink to Starbucks. Every year, tons of people anticipate the arrival of the infamous Pumpkin Spice Latte. Yes, we love it, but we all know it's #basic.
Check out a few of our favorites from the secret menu and who knows, one of them might end up being your new go-to fall choice!
1. Vanilla Pumpkin Nut Latte
We all know that the Pumpkin Spice Latte is everyone's favorite Starbucks choice. If you are not ready to let this fall staple drink go, at least try it with a little twist.
Ask For: Pumpkin Spice Latte, Toffee nut syrup, Vanilla syrup
2. Pumpkin Hot Chocolate
If you've already had your daily cup of joe but are in the mood for another drink to warm up a cool autumn day, hot chocolate is the answer. Combining the flavor of a pumpkin spice latte with the comforting hot chocolate makes this seasonal drink a great option.
Ask For: Hot chocolate, Pumpkin spice sauce
3. Terry's Chocolate Orange Frappuccino
If you love mocha frappuccinos as much as we do then you must try this version. The orange slices give this drink just the right amount of citrus flavor.
Ask For: A Mocha Frappuccino, Java Chips, Orange Slices (3 to 7), Top with chocolate whipped cream and cookie crumble topping
4. Vanilla Apple Spice
If you like the Caramel Apple Spice drink, shake it up with vanilla. It tastes like an apple pie with vanilla ice cream except with way less calories. Who doesn't love that?
Ask For: Caramel Apple Spice, Vanilla syrup instead of Cinnamon Dolce, Steam vanilla bean powder with the Apple Juice
If you want to add more spice into it, ask for cinnamon to be steamed into the apple juice. Top with whipped cream, dark caramel drizzle and cinnamon
5. The Undertow
If you are looking for an extra kick in the morning, give the Undertow a try. Drink it fast so you can get the initial intensity of the espresso immediately followed by the cold milk and syrup flavor.
Ask For: 3 pumps of syrup (vanilla suggested) in a tall cup, A splash of milk, Two shots of espresso floating on top
6. Warm Sugar Cookie
Cookies + hot chocolate is the perfect combination for snuggling up by the fireplace on a chilly autumn day. With this recipe you get both of these goodies in one delicious drink.
Ask For: White Mocha Hot Chocolate Hazelnut syrup (1 pump tall, 2 grande, 3 venti), Vanilla syrup (1 pump tall, 2 grande, 3 venti), Sprinkle some raw sugar on top
7. Burnt Marshmallow
This is a great pick-me-up to start off your day (or keep it going) for those who crave something on the sweeter side.
Ask For: A doppio or solo espresso macchiato, 2 pumps of white mocha sauce, Caramel drizzle
8. Cinnamon Dolce Smoothie
If you are in a mood for something cold and a little more substantial than a frappuccino, give this recipe a try.
Ask For: A Chocolate Smoothie, Cinnamon Dolce Syrup instead of Mocha, 3 scoops of Vanilla Bean
Previous
Next
BEGIN