Photo: specialoddcasions.com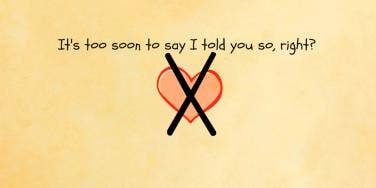 There really IS a card for everything.
Have you ever found yourself in odd, yet super-hilarious situations that you wish you had a card for? Well, now you do.
Special ODDCasions is a new line of greeting cards for the usual occasions and a few ... uniques ones, created by writer and columnist Meredith Carroll.
"The idea came about when I looked at the calendar months and saw it was a year to the day after I had my breast implant surgery," she said in an e-mail to YourTango. "I texted a friend and said, 'Happy Boob Day to me.' She replied, 'There should be a card for that.' And now there is."
In addition to the usual birthday, anniversary, and holiday cards, she's added cards for divorce, pets, and the inspiration for the line, plastic surgery.
However, these are no ordinary cards. These cards, according to Carroll, are "not for the easily offended." They're sarcastic yet witty. A good majority of the funny sayings put a light spin on what are otherwise upsetting occasions.
They're only available online for now, but who knows? Maybe someday, you can just walk into a store and get a stack of these. Check them out, but remember: these cards are just for fun and not to be taken seriously. How else can we enjoy life if we don't indulge in a little sarcasm?
Photo: SpecialODDcasions.com
1. Going bald
This club is full of famous people. Consider yourself special.
Photo: SpecialODDcasions.com
2. When you need to tell a friend "I told you so..."
I may or may not be having a dance party to celebrate how right I am.
Photo: SpecialODDcasions.com
3. Coming out of the closet
Surprise, we all knew that already.
Photo: SpecialODDcasions.com
4. Going on a diet
You tried, and it's OK. We've all failed at dieting. But we should all aspire to be Oprah, right?
Photo: SpecialODDcasions.com
5. Celebrating your child becoming a teen
Who says only your kid can get cards on this momentous occasion? We should mourn for you, too.
Photo: SpecialODDcasions.com
6. Having a boob job
Boobs are boobs, whether plastic or real, am I right? I'm not judging your life choices ... Oh, wait, I am.
Photo: SpecialODDcasions.com
7. Telling someone #sorrynotsorry
Previous
Next
BEGIN