Photo: weheartit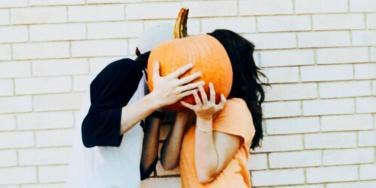 Do you go for spooky or silly?
By Tara Block
If you're paired up this Halloween, you're most likely attending costume parties with your significant other. Whether you're trying to come up with a creative couples costume, something inspired by celebrities, or a sexy couples costume, what you wear with your partner for Halloween says a lot about your relationship.
And if you don't know what to wear, take our couples costume quiz.
Check out what the type of couples costume you pick says about you and your love now!
If it's from a movie...
You and your honey wouldn't go as far as to say you're film buffs, but you do have a tendency to use movie lines in everyday conversation, and you're not embarrassed to admit you're addicted to Netflix. You've been together long enough to have some lesser-known film faves, so you count your couple costume a success if no one knows what it is.
A typical date night incorporates either take-out Chinese and one of your well-loved favorite DVDs (you have a handful in constant rotation) or an Indie favorite at the hole-in-the-wall theater down the street.
If it's funny...
You're the twosome that gets the party started with your presence, and your costume will be the one everyone talks about long after the night is over.
You and your man are always up for a night out on the town with your friends. In fact, you're both so outgoing that it's difficult to find time for just the two of you with all the dinner parties, club nights, and group outings you attend — unless you count hungover Sundays on the couch as quality time (go ahead, count it).
If it's soft & cuddly...
Maybe you're a furry! Or you both just like the comfort of plush costumes. Your friends probably lament the end of your single days, because they never see you or your man out on Friday nights. Instead, you're both at home on the couch in your matching Snuggies watching a Blu-ray.
If it's sexy...
The couple who works out together strips down together. You and your honey take fitness seriously, and you love the outdoors. Your dates usually involve hiking, biking, or camping, and you're not afraid to show off your toned bodies in a skimpy Halloween costume.
If it's scary...
You and your man have probably been together for a while, and after years of doing the sexy or pop culture thing, you've decided, "F it, let's paint our faces with blood and creep people out." It is Halloween after all. That might be how you deal with your relationship in general, letting go of any pretenses and just being your sometimes-scary selves.
If it's historical...
Do you fight over watching sports or The Bachelorette but totally agree when it comes to checking out that historical documentary on Netflix? Then you're probably planning a historical costume. You might also be living in a cramped apartment attempting to get by as your better half gets through grad school while simultaneously convincing your parents it's a smart career choice.
If it's nerdy...
When your couple costume is typically inspired by superheroes or video games, you know you've found your geeky love match. A standard weekend with your honey involves back-to-back Star Trek and Star Wars marathons with a heated all-night discussion on the merits of both; and your ideal romantic vacation would be attending Comic-Con with your man. Halloween costume reuse!
If it's minimal...
You and your partner were probably best buds before deciding to give hooking up a try. And your idea of a date night likely includes ordering in pizza with your favorite toppings and opening a bottle of Two Buck Chuck — who says romance can't be low maintenance?
If it's political...
The two of you met in debate class, and it was love at first argument. Despite being political polar opposites, the passion you both have for your parties just makes you love each other more.
While you may argue over whether to watch John Stewart or Fox News, getting heated over hot-button issues just leads to hot romps in the hay.
If it's mismatched...
You and your partner are not the type of couple to be attached at the hip, in fact, despite the fact that you've been together for a while, people are always wondering if you're actually dating or just friends. You've both got your own lives and friends, and you relish your independence.
Previous
Next
BEGIN