Photo: WeHeartIt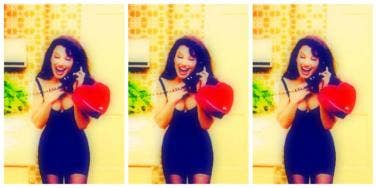 Yikes! Talk about a relationship wake-up call.
Although homosexuality is more widely accepted now than ever, there are still men afraid to come out — and that's okay.
But, what's not okay is using an innocent, unsuspecting woman as your beard until you figure out if you'll ever be ready to come out of the closet. Even worse? Getting married to her.
I may sound a little angry, as if I've experienced it. While I haven't, I'm currently voicing my anger on behalf of all the women this has happened to.
I imagine that finding out your husband is gay might be one of the most devastating things to happen to a marriage. And, while I do believe all circumstances are different (was he cheating in the process of discovery?), I also know it's a pretty common occurrence.
Just look at these 11 celebrity women who've experienced it first hand.
1. Liza Minneli
Like mother, like daughter! Liza Minnelli married to Peter Allen from 1967 - 1974. It wasn't after their split that he admitted to being gay, before dating Gregory Connell.
This is proof that a gaydar or lack thereof, may just be genetic ... because what are the odds?
2. Amanda Blake
Blake was married to Mark Spaeth up until his untimely death from AIDS complications in 1985; she died four years later from AIDS complications, as well. This lead to speculations of Spaeth's sexuality.
3. Carolyn Moos
WNBA Carolyn Moos, was engaged to NBA player, Jason Collins when he publicly came out of the closet — a month before the wedding. Although they had already spent eight years together, I have to say I commend him for telling her sooner rather than later.
4. Fran Drescher
Televisions sexiest, most stylin' nanny was married to Peter Marc (The Nanny's creator) for nearly two decades; it wasn't until the divorce that he admitted to being gay. They later went on to create a show inspired by the situation, Happily Divorced.
5. Judy Garland
Judy Garland, married Vincent Minnelli, who had been known to live a homosexual lifestyle in New York and a heterosexual lifestyle in California. Sadly, garland was one of the many women he'd married to keep up the charade.
Oh, and I almost forgot to mention that Garland's fourth husband, Mark Herron, was gay, as well. In fact, there was speculation that he was screwing around with his stepdaughters husband, Peter Allen. Not sure if this love square can get any more twisted.
6. Terry McMillan
Waiting to Exhale genus, Terry McMillan, divorced her husband Jonathan Plummer (also the muse behind hit novel How Stella Got Her Groove Back) in 2005 when he revealed he was gay. Although, she later admitted how difficult it was to let go of her anger, we're sure the situation sparked some good writing out of the situation.
7. Jackee Harry
Harry and her ex-husband, Elign Charles, were together from 1996-2003. As flamboyant as he was, we're not sure that he was actually in the closet but that's what we'll call it for the moment. Harry and Charles remain friends, she even made an appearance on his reality show, Beverly Hills Fabulous, a time or two.
8. Danielle Fishel
At 17, the Boy Meets World, dated N'Sync's Lance Bass for a year. Six years later he came out of the closet, and although Fishel didn't initially notice, she recalls her mother making the observation right after they had broken up. Mother always knows best.
9. Berry Berenson
Berenson was married to Anthony Perkins into the early 90s when they split. There wasspeculation when he later died from complications of AIDS. Sadly, Berenson was one of the many victims to die in the wake of 9/11 on American Airlines flight 11.
10. Charlotte Rae
Rae got out as soon as husband, John Strauss, came out in 1976. They'd had two children together. You take the good, you take the bad ... that's the facts of life, right?
Previous
Next
BEGIN