Photo: weheartit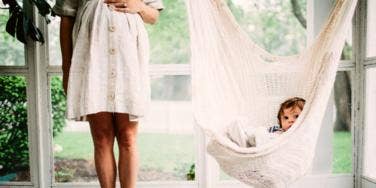 Celebs aren't immune.
As many as 19 percent of new moms suffer from postpartum depression, and celebrities are no different.
Hayden Panettiere is the latest star parent to speak out about her experience, saying, "It's something that needs to be talked about. Women need to know that they're not alone, and that it does heal."
No new mom should suffer in silence, and these 14 celebrities have been open about their own experiences in an attempt to take the stigma out of a very real illness.
Brooke Sheilds
Brooke Shields has been open about her struggle with postpartum depression after welcoming her daughter Rowan in 2003. After giving birth to her second daughter, Grier, in 2006, Shields was prepared to ask for another prescription of antidepressants should the feelings return. She said:
"We think and we feel that we should just be able to handle it on our own. . . . I finally had a healthy beautiful baby girl and I couldn't look at her. I couldn't hold her and I couldn't sing to her and I couldn't smile at her . . . All I wanted to do was disappear and die."
Photo: Getty/Ethan Miller
Celine Dion
Celine Dion alluded to a struggle with postpartum depression after the birth of her twin sons in 2010.
"One moment, tremendous happiness; the next, fatigue sets in, and I cried for no reason, and then that took care of itself. It's for things like that after having a baby that mothers really need emotional support."
Courteny Cox
Courteney Cox described her experience as a delayed case of postpartum depression after giving birth to Coco in 2004.
"I went through a really hard time — not right after the baby, but when [Coco] turned 6 months. I couldn't sleep. My heart was racing. And I got really depressed. I went to the doctor and found out my hormones had been pummeled."
Photo: Getty/Jason Kempin
Amanda Peet
After experiencing a euphoric pregnancy with daughter Frances Pen, Amanda Peet was caught off guard by how she was feeling once she gave birth in 2007. She explained:
"And now I want to be honest about it because I think there's still so much shame when you have mixed feelings about being a mom instead of feeling this sort of 'bliss.' I think a lot of people still really struggle with that, but it's hard to find other people who are willing to talk about it."
Photo: Getty/Jon Kopaloff
Kendra Wilkinson
Kendra Wilkinson experienced postpartum depression after each birth of her two children, Hank Jr. and Alijah. She said:
"After giving birth, I never brushed my hair, my teeth, or took a shower. I looked in the mirror one day and was really depressed. I thought, 'Look at me!' I had this glamorous life in LA, and now [in Indianapolis] I didn't. A couple of times, I even said, 'I just have nothing to live for.'"
Photo: Getty/Michael Bezjian
Marie Osmond
After giving birth to her youngest son, Matthew, Marie Osmond struggled with postpartum depression. Her 2001 memoir, Behind the Smile: My Journey Out of Postpartum Depression, details her experience.
Photo: Getty/Jon Kopaloff
Bryce Dallas Howard
Bryce Dallas Howard was thrilled as soon as she learned about her pregnancy and carried that joy with her through the birth of her son, Theodore Norman. But her emotions quickly changed and she struggled with hiding how she was really feeling from friends and family. She described:
"It is strange for me to recall what I was like at that time. I seemed to be suffering emotional amnesia. I couldn't genuinely cry, or laugh, or be moved by anything. For the sake of those around me, including my son, I pretended, but when I began showering again in the second week, I let loose in the privacy of the bathroom, water flowing over me as I heaved uncontrollable sobs. Worst of all, I definitely felt I was a rotten mother — not a bad one, a rotten one. Because the truth was, every time I looked at my son, I wanted to disappear."
Gwyneth Paltrow
After giving birth to her son, Moses, in 2006, Gwyneth Paltrow described realizing that something was wrong when she wasn't feeling like she did after having her daughter, Apple, in 2004:
"I couldn't connect with my son the way that I had with my daughter and I couldn't understand why. I couldn't connect to anyone. I felt like a zombie. I felt very detached. I just didn't know what was wrong with me. My husband actually said, 'Something's wrong. I think you have postnatal depression.' I was mortified. 'No I don't!' And then I started researching what it was and the symptoms and I was like, 'Oh, yes I do.'"
Vanessa Lachey
Mother of two Vanessa Lachey wrote about her experience with "baby blues" that set in a few weeks after her son Camden's birth in 2012:
"I felt lost, unloved, alone and at my wits end. But at that moment . . . I felt like NO ONE understood me. I was in my maternity leggings, un-showered with throw up on my shirt, hives ALL over my body (another lovely post pregnancy perk I got) and a sweet, loving little boy who couldn't look at me and smile to make it all better. I started crying. I was feeding Camden and crying my eyes out. I felt like I had officially come undone. Where was the organized Vanessa who had it all under control no matter what the obstacle? She was gone, and I thought . . . forever."
Photo: Getty/Gregg DeGuire
Lisa Rinna
Lisa Rinna hid how she was feeling after giving birth from her husband, Harry Hamlin. She opened up about how suffering silently led to a difficult time in their marriage.
"After having my first daughter Delilah, I had severe postpartum depression. I kept it a secret. I didn't say a word to anybody in the world. [My husband] thought I was just nuts. He had no idea what was going on and I was so hopeless and felt so lost. Ten months later, [I] opened up to him and told him how worthless I felt. My self-esteem was gone. I didn't want to have sex. It was opening up something that I felt so much shame about was the most valuable thing that I could have done."
Photo: Getty/Jon Kopaloff
Hayden Panettiere
The Nashville star's character suffered from postpartum depression, which is something Hayden Panettiere can closely relate to. She said:
"It's something a lot of women experience. When you're told about postpartum depression you think it's 'I feel negative feelings towards my child, I want to injure or hurt my child' — I've never, ever had those feelings. Some women do. But you don't realize how broad of a spectrum you can really experience that on. It's something that needs to be talked about. Women need to know that they're not alone, and that it does heal."
Photo: Getty/Jenny Anderson
Melissa Rycroft
Melissa Rycroft's husband, Tye Strickland, suspected postpartum depression after they welcomed daughter Ava but didn't want to be the first one to say anything. She described:
"I thought I had a really bad case of the baby blues. I was three months into it before I realized it could be postpartum depression. I had a massive case of denial, though. I thought women with postpartum depression wanted to hurt their babies. But for me, it had nothing to do with Ava. I had this big emptiness that you shouldn't have right after you have a baby. I was like, I don't want to seem like I'm not happy — it's just that there's something chemically wrong. I would get frustrated and angry really easily. Usually I'm very in control with my emotions, and that had changed. I found out that I actually had a classic case of postpartum depression. Only 1 percent of the cases are the more extreme kind. Most cases are like what I'd been going through. It's just that a lot of people don't talk about it, and I felt like the only person going through it."
Photo: Getty/Amanda Edwards
Carnie Wilson
Carnie Wilson said the birth of her daughter Lola Sofia brought on a bout of postpartum depression that she treated with the help of hypnosis tapes given to her by her therapist.
"I cried all day over everything. It's a physical feeling. You're overwhelmed with love and joy, then sadness and fear. You're so afraid you're going to fail this baby. What if you drop her or hurt her? She's totally dependent on you and it's scary."
Photo: Getty/Ernesto Distefano
Alanis Morissette
While many experience emotional pain from postpartum depression, Alanis Morissetteexplained her surprise of the physical symptoms.
"The degree and intensity of my post-natal depression shocked me. I am predisposed to depression, but what surprised me this time was the physical pain. I hadn't realized the depths to which you can ache — limbs, back, torso, head, everything hurt — and it went on for 15 months. I felt as if I was covered in tar and everything took 50 times more effort than normal."
Previous
Next
BEGIN