Photo: weheartit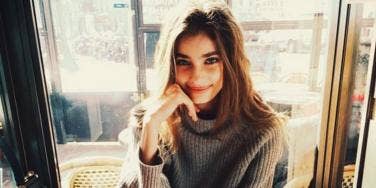 Classy and chic, but still sexy!
There's nothing better than Sunday brunch, especially when you have a great outfit for it. Although the chilliness of fall can make it tough to decide what to wear, these styles will keep it cute, comfy, and easy like a Sunday morning should be.
1. Denim Skirt
Denim skirts are making a comeback and there's no better way to welcome them than with a classic Sunday brunch.
2. Leather Jacket
With colder days coming, it's time we add a leather jacket to our Sunday brunch ensemble.
3. Sunglasses
The sun is always shining on fall mid-afternoons, therefore sunglasses are always in season.
4. Bold Trousers
Bold Trousers not only look great but are super comfy for a Sunday morning brunch, simply pair with a cute pair of wedges and sunnies to complete the look!
5. Trench Coat
No matter what you're wearing, a good trench coat will always be there to keep you chic and warm during chilly fall mornings.
6. Flats
Walking around before and after brunch can be tough, so why put yourself through the extra pain when you can wear an adorable pair of flats?
7. Floppy Hat
Whether it's to cover up your bed head or enhance an outfit, floppy hats are a brunch must.
8. Sweater Dress
Sweater dresses are the best way to stay cozy for a Sunday morning brunch. Pair with high boots to complete the relaxed yet put together look.
Previous
Next
BEGIN