Photo: weheartit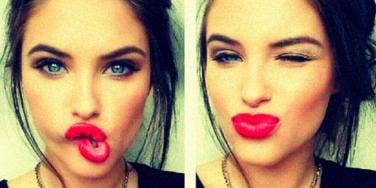 What does your pout say about you?
We bite our lips in nervousness, stick them out like a duck's bill for a selfie, and blow a raspberry on a baby's belly. We kiss goodnight, in the midst of passion, and if we're French we kiss everyone hello.
Our lips can be pouty, perky, or pursed, and it doesn't matter if our lips are sealed for them to reveal many things about us — some we'd rather keep hidden.
Cosmopolitan recently explored the idea that looking at a person's lip shape can tell you a lot about their personality. Are their lips full and luscious, meaning that they're extravagant and love to spend money, or do their lips turn downwards slightly indicating that they're private and mysterious?
See if you can find your lip shape, and what it says about you:
1. Ashley Benson: "Just Right" lips
Your lips aren't overly full or thin, but perfectly proportioned. If your lips are like this, you're pretty drama-free in your relationships.
2. Meg Ryan: Injected lips
In Chinese face reading, if you alter your face you change your destiny. If your lips are cosmetically altered, it could mean you like to create drama or that you're self-centered. Or, it might mean that you're prepared to do whatever it takes to look your best.
3. Megan Fox: Cosmetically altered bottom lip
You're someone who wants the good life and everything that it entails. You live for pleasure and pampering.
4. Meagan Good: Naturally full lips
You're a caring nurturer and connect with people on a deep level. You put other's needs in front of your own, and would make an awesome parent.
5. Melissa McCarthy: Thin lips
If you have thinner lips you have a tendency to be intuitive, sensitive, and detail-oriented. You enjoy being in a relationship, but you're OK with being single, too.
6. Hayden Panettiere: Lips with a peaked Cupid's bow
The dip in your lips means that you're an excellent communicator, quick, and very creative. Sometimes you can be quick to react to, and say something without thinking it through.
7. Eva Mendes: Lips with a rounded Cupid's bow
Other people are impressed with how kind and giving you are. You're a giver, and people love to be around you.
8. Tatiana Maslany: Lips with an undefined Cupid's bow
You have a tendency to want to solve everybody's problems. You're so busy giving, you sometimes forget to put yourself on the list.
9. Selena Gomez: Lips that are naturally fuller in the center
You love to be the center of the attention, and naturally gravitate to the arts. You tend to be a little self-indulgent and excitable.
10. Lizzy Caplan: Rosebud lips
You have a curious and slightly rebellious nature. Women with these lips enjoy the social scene and have many friends.
11. Jessica Alba: Thin upper lip with a fuller lower lip
You have a Type A personality, and you value hard work and achieving your goals — sometimes to the point of forgetting to have a social life.
12. Uzo Aduba: Large mouth with full lips
You're generous to a fault, courageous, and self-assured.
Previous
Next
BEGIN