Photo: weheartit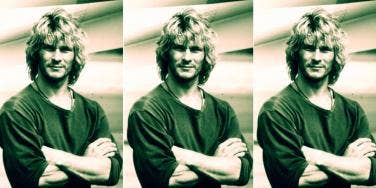 Get rid of these bad boys STAT.
It's easy enough to explain why guys ghost women. In the age of Tinder, less people are in Facebook official relationships, leaving it easy to Casper on out of there.
It's obviously frowned upon to ghost without a word, because it leaves ladies wondering what went wrong. But why have an awkward, drawn-out breakup when you were never quite dating to begin with?
Ghosting is the IRL equivalent of RSVPing "maybe" to a Facebook party invite. It's announcing that while you're not actually ready to make a commitment, you don't want to say no either and ruin all of your chances.
If you've ever been ghosted (or been the ghost-ee), you'll recognize these pop culture prototypes that will continue to haunt you until you exorcize them. (Exorcism of the modern-day ghost is accomplished with copious amounts of alcohol and poor decision making.)
1. The Patrick Swayze
You had a deep, intense relationship with Swayze (a la Ghost) until he mysteriously disappeared. You might not have actually been dating, as you were "keeping it casual," but that didn't put a damper on its intensity.
This was by far the most passionate relationship of your life, even if it only lasted for a couple of weeks. It was never close to being FBO and most of your friends never met him because you were too busy getting busy. But you thought the adult slumber parties would continue for at least a couple more months ...
Unfortunately, despite your connection in the boudoir, you were never even close to a Netflix level of intimacy. (Not Netflix and chill, but actual marathons of horrible TV shows.) His ghosting is the least painful because you knew you weren't heading to the altar (or anywhere near a priest, for that matter), but you can't help but miss him whenever Dirty Dancing is on late at night.
2. The James Dean
Not to be confused with porn star James Deen, this ghost is the ultimate bad boy, and you knew that before getting involved. Unfortunately, that doesn't stop you from embarking on a "relationship" that mostly involved late night texts and early morning regrets.
This guy ghosts by straight up bouncing, never to be heard from again. He's more of a nightmare than a daydream, and when you have a few too many drinks and send him a regrettable text, you immediately delete it to pretend it didn't happen.
When he randomly pops up on social media (probably because of all the time you spent cyberstalking him), he's always up to his old tricks.
3. The Ghost From PacMan
The mysterious Pacman ghost reappears when you least expect him. After not hearing from him for weeks, he sends a late night text at the exact moment you're ready to move on (most likely before a first date), proving that his D-bag senses are tingling.
PacMen are the recurring antagonists in the game of life. No matter how you attempt to rid yourself of them, they'll be back for more. And you'll always text PacMan back, even though he's your dating downfall.
4. The Tupac Shakur
He's not around, but you see him on social media daily so you still know he's out there. While you were never a conspiracy theorist (unlike that one Channing Tatum look-a-like you hooked up with), Tupac makes all girls question what went wrong.
The relationship seems to be making strides, with the guy in question talking about meeting the parents and even mentioning marriage. Then suddenly, it's completely over with no actual explanation. Even years after you've moved on, you'll wonder what happened with 'Pac.
5. The Spike (from Buffy The Vampire Slayer)
This ghost might be more undead than actually dead, but that doesn't make him any less lethal. Sure, he breaks some mythology because you know he can be tagged in pictures (you confirmed that by accidentally liking an Instagram photo of his from 36 weeks ago). You're pretty positive that he can be seen in mirrors because he's absolutely obsessed with himself.
But at the end of the day, you've never actually seen this guy with your own eyes during daylight hours. He primarily exists at midnight, when a "u up?" text brings him to life. His lair is the local dive bar, where he seeks out all of his conquests, many of which are connected in an intricate Eskimo sister's web. Like Drusilla, Spike's original one true love in Buffy, this guy is guaranteed to make you a little bit insane.
6. The Casper (the friendly ghost)
This guy ghosted after a few weeks but keeps you around with constant check-ins like Foursquare to confirm that you'll be available whenever he feels like it. Maybe it's a funny video that reminds him of you, or maybe it's a midnight text when you're fast asleep in bed because you no longer do 2 AM booty calls as an adult lady.
It might even be a mid-week investment text he shoots off on a Wednesday, to guarantee that you'll be around this weekend. He's perfectly friendly, but he doesn't seem ready for any kind of commitment. Who knows? Maybe he has a Christina Ricci of his own that he was never fully able to recover from.
7. The Moaning Myrtle (from Harry Potter)
Like Myrtle, this ghost is well-meaning, but altogether too creepy. You only went out once or twice, but he insists on creeping on you when you've attempted to ghost yourself.
He'll text weeks after you first met, send a Facebook friend request when you've forgotten him forever, and will even favorite a tweet from many months ago. It's not stalker level scary, but it certainly makes you wonder if you can erase yourself from his memory with some kind of potion.
8. The Beetlejuice
This is a "one date and dump" chump. He obviously doesn't owe you anything, but you thought you were having the time of your lives. You went on a date that didn't end with you having to force your roommate to rescue you, and he consistently brought up places you should check out on your next date.
Then ... nothing. You wonder if maybe he's actually dead, because what else would explain his post-date ghost after your one night wonder? Like BJ, he's not hurting anybody, but that doesn't stop him from being completely offensive.
9. The Michael Jackson
MJ is the guy who completely evolves during your relationship until he's almost unrecognizable. When you first get together, he seems like an ideal candidate for the boyfriend title. After time passes, he starts to change. He's not texting you back like he used to, but of course you make excuses like "He's crazy busy with work right now," or, "Summer means that everyone's traveling."
Eventually you stop hearing from him completely, which is a helpful reminder that when a dude starts disappearing, it's probably because he's not into it anymore. After all, if Noah could write Allie every day for a year, you deserve a guy who won't turn into a smooth criminal and sneak away in the dead of night.
Previous
Next
BEGIN