Photo: WeHeartIt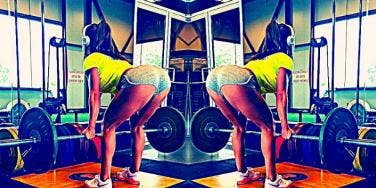 Jane Fonda had it right when she said, "No pain, NO gain."
In a world where all types of body shaming exists, we must create a line — a line between shaming and "tough love" honesty. Because let's face it, being overweight is a dangerous thing.
It doesn't matter how proud you are to head the BBW club, or even if you're like me — an average girl, who lives by FOE (food over everything) and as a result, tends to fluctuate every so often.
Hear me clearly, I'm not saying we ought to be ashamed of ourselves, as we're beautiful at any weight. I'm simply saying that we do a lot of things in the name of beauty that aren't necessarily healthy, and trying to prove that "big is beautiful" by protesting through inaction (and lack of fitness) ... well ...that's one of them.
Nonetheless, you've heard the old saying, "Never put off tomorrow, what you can do today." (Ahem, New Years resolution's ring a bell?)
So, here are 10 brutally honest signs it's time for you to dust the old yellow book off (I kid, I kid) and join a gym ... like yesterday!
1. Your Clothes "Magically" Shrink
Be real! Your drier didn't do that, between all of those weekend brunches, Netflix binging ... and when your not "Netflix n' Chillin'," you're booze binging. We get it, but now's the time to realize our metabolism seems to age in dog years (or something) and it's just not as speedy as it once was ... therefore, we have to cut back on the $3 buffets, mimosa filled brunches and reallocate some of that Netflix time to the gym.
2. Your BMI is Off the Charts
This is pretty dry and cut, but if your weight isn't aligned with the Body Mass Index ... there's a good chance you're struggling with your weight. According to the CDC, a healthy BMI ranges from 18.5-24.9. So if you're hovering or skyrocketing above this point, talk to a nutritionist or doctor to come up with a realistic plan to get this checked, as soon as possible.
If you're not sure what your BMI is, try this handy calculator.
3.Your Family History Points to Obesity and More ...
You may or may not be overweight at this point in your life, however, if you notice (or directly, know of) a family history or obesity, diabetes, and/or heart disease, it's time to take the necessary precautions and get ahead by making a lifestyle change. Do your best to live the longest, healthiest life humanly possible. We promise you'll feel better and more alive than ever once you make this change.
4. People Tell You How Big Your Butt Is … NOW
You've never been Sir-Mix-A-Lot's muse but suddenly your friends are telling you how big your butt is. Granted this is a compliment ... IF and only if your gut didn't grow with your butt. As much as us curvy girls can't stand the thought of losing that cornbread-made butt, it's time to step up the cardio and prayer (as, prayer might spare you a little booty as you navigate this fitness thing).
5.Your Back is Always In Pain
According to the American Obesity Association, that back pain is a classic symptom in 1/3 of American's who are considered obese. This tends to happen as your spine tries to adjust and compensate for an over abundance of weight; thus, the spine becomes tilted.
The best way to alleviate at this pain? You guessed it! A little one-on-one with the gym.
6. You suffer from FOPA (Or, Fat Over Pubic Area)
For the sake of being polite, we'll just refer to FOPA as "Fat Over Pubic Area." You may be in the FOPA minors or major leagues, either way, it ain't cute. Sorry not sorry, but having your gut hanging over your vagina is NOT OK. That. Is. All.
7. You Never Have Energy to Spare
You're always drained, even though you went to bed early last night and the night before. All you can ever imagine doing is staying in your bed, living in a tub of sugar cookie dough and a two liter of Pepsi (eh, sorry if this is reading like a personal memoir). I know the feeling all too well, but this feeling eventually takes a toll on you and your mood. However exhausting exercising may seem, it actually gives you quite the energy boost ... once you become a regular at the gym.
9. Stairs are the Death of You
The End.
No but seriously, going up stairs feel like you're going to go into cardiac arrest at any moment (or at least you imagine that's how it feels). And for the love of all things food, don't let it be a day while you're climbing the stairs while on a call because you just might not make it.
This is a great indicator that not only should you hit the stairs more often, but do so in collusion with the gym and healthier diet.
10. Your Bra Straps Leave Your Shoulders Raw
It starts with raw skin and bruises, but it turns into a spotty, dry, nasty scab. Yes, you can always just get a bigger bra but it might be cheaper (in the long run) to simply shed some inches, in order to provide your girls' with the space and room to breath properly. It'll also be easier on any shoulder pain.
11. You Fear Mirrors and Scales
Picture this: the nurse pulls you into the room that houses that complicated, little scale (you know the ones) and you immediately close your eyes, beginning to chant to any higher power that you didn't go up — it's like a game of Russian Roulette ... every. single. time.
And, mirrors? Sheesh, you may as well be avoiding Bloody Mary the way you're dodging them. But, honestly. This is a step on the road to the gym, you'll get sick of avoiding scales and mirrors — having to find selfie angles that give a thinner illusion and eventually, you'll realize the gym is an easier fix.
Previous
Next
BEGIN