Photo: Michael Stokes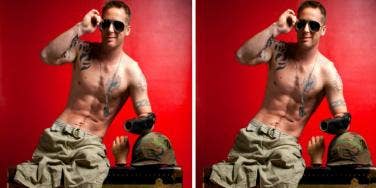 These are spectacular.
Photographer Michael Stokes is a true artist because he challenges our perception of beauty while commenting on powerful social issues.
In his soon-to-be-released hardcover coffee table book Always Loyal, Stokes shows us the beauty and the brutality of wounded war veterans. But the feelings the book produces aren't the usual feelings of pity and sorrow for these vets.
Instead, we see their strength, confidence, courage, and an honest sexuality. You may feel empathy for these veterans with their injuries, lost limbs, and prosthetics, but you don't feel sorry for them. And it's clear that they don't want your pity; they just want to take the world on and make it their own.
In an article in Cosmopolitan, Stokes talked about the impetus for photographing veterans of the Gulf Wars who lost one or more limbs during active duty. Stokes met a veteran who wanted Stokes to photograph him as a possible start to a modeling career.
"At the time I was focused on male, fitness photography, often with an erotic edge, and I wasn't sure if that was necessarily right for a wounded veteran of war. So I met this veteran, Alex Minsky, talked to him about different approaches to a portrait session.
I noticed that most [amputee photos] emphasized the lost limb, and that the mood was often sorrowful. That was not the vibe I was getting from him, so I decided to simply photograph him as if he were not an amputee — photograph him exactly the same way I would any of my fitness models."
Once Stokes posted the photos from his shoot with Minsky, they immediately went viral. Minsky now has a full-time modeling career appearing in underwear ads, GQ, and Mercedes Benz Fashion Week.
"Some people will say to me, 'Oh, this is really helpful to their self-esteem,' or, 'You're making them feel like men again." Stokes said to MTV News. "I'm not giving them back their confidence. They already have it."
From the pre-sales of Always Loyal and his third book Exhibition, Stokes will donate $20,000 to the Semper Fi Fund.
Check out these truly amazing (and super-sexy) photos from the book:
1. Power
Prosthetics certainly don't take away from the man.
2. Strength
And their confidence is super-hot.
3. Courage
These photographs challenge the traditional notion of what sexy is.
4. Confidence
There's nothing hotter than a man who owns his confidence.
6. Poise
Nobody even notices this sexy man's prosthetics.
7. True sex appeal
It just goes to show that risk and vulnerability are beautiful.
Previous
Next
BEGIN