Photo: Jirka Väätäinen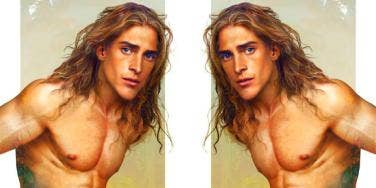 Damn.
We've all tried to picture what Disney Princes might look like if they were real. Sometimes there have been live-action movie versions of some of the classic Disney animated films, and we've seen a human Prince Charming in Cinderella, or Kellan Lutz in Tarzan, and those are great. But they have a tendency to limit your own imagination.
Luckily, artist Jirka Väätäinen has re-imagined your favorite Disney princes and drawn them as real-life humans. Väätäinen's first Disney character re-imagined was Ursula from The Little Mermaid, which inspired him to illustrate Disney Princesses as real-life women.
He told Cosmopolitan, "Having grown up with a lot of these characters, the sense of nostalgia made it such a fascinating and fun personal project to explore and carry on with."
Väätäinen paid careful attention to the character traits that made each of these characters unique, while making them more life-like and human. And honestly, these Disney Princes are all pretty hot:
1. Prince Adam from Beauty and the Beast
Prince Adam transforms from beast to to human form.
2. Hercules
In order to become immortal, Hercules had to become a true hero. And being sexy helps, too.
3. Prince Eric from The Little Mermaid
He was Ariel's bae, and just as handsome as we thought he'd be.
4. Aladdin
Who needs a genie when you look like this?
5. Prince Charming from Cinderella
Prince Charming is definitely swoon-worthy.
6. Tarzan
All that vine-swinging must be good for the abs.
7. Prince Phillip from Sleeping Beauty
Thank goodness Aurora woke up to see this gorgeous man.
7. John Smith from Pocahontas
Even hotter than you imagined, right?
Previous
Next
BEGIN