Photo: weheartit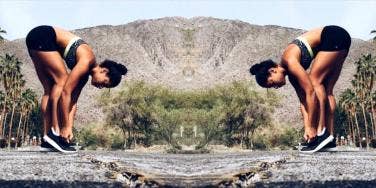 Put that busy butt to work!
"I'm too busy to be healthy" is no excuse here! It's so easy to develop bad health habits when living a hectic lifestyle, but we must remind ourselves that healthy habits are essential to a long and happy life.
Many of us don't know where to start when it comes to our fitness journey, especially when our jam-packed schedule doesn't permit us the time to do so. But not to worry - we've come to the rescue and are ready to save you from the unhealthy rut you've found yourself in!
So click on for tips on how to develop healthy life habits without exhausting all of your time and energy.
Make A Plan
You have enough to worry about on a daily basis, the last thing you can think about is your workout schedule. We recommend you busy ladies and gents sign yourselves up for workout programs that are planned for you - no thinking involved at all!
Track Your Health & Fitness
We busy individuals have a hard enough time remembering what we ate for breakfast, never mind how much exercise we've gotten in for the day. Go grab yourself a fitbit and enjoy the wonders of hassle-free fitness tracking with the added bonus of a super cute new accessory!
Drink Water
Water is vital to your overall health, but it's sometimes hard to remember to get in your necessary ounces. So pick yourself up a re-usable water battle, throw it in your bag, and enjoy the wonders (and adorableness) of not having to remind yourself to "drink enough water!"
Make Smart Choices
In the time it took you to order that pizza, you could've assembled a salad and had time to spare! It's all about making healthy choices when on the go, chances are you'll actually even save time - and you can't tell us that bowl chock-full of fruits doesn't look delicious!
A Green Juice A Day...
For a green juice that doesn't taste like kale and dirt, check out Pure Green! We seriously can't rave enough about this new juicery and their organic, no hpp, uniquely delicious drinks. This smart, healthy, and very quick choice will be the best and most nutritious decision you make all day!
Take The Stairs
Excuse us while we sound like a cliche here but, "there is no elevator to success." We can't stress this enough, ALWAYS take the stairs! It may seem like a very minor change in your daily routine, but it will make a world of a difference - your booty will thank us.
Set A Goal
It's been scientifically proven that when a goal is set, you will work harder. We suggest our on-the-go readers to write down your goal so that you don't forget it, maybe even set it as the background on your phone, or simply follow a motivating Instagram account. Making these friendly little reminders to yourself will not only help you remember what you're working towards, but will bring you that much closer to achieving it!
Previous
Next
BEGIN