Photo: weheartit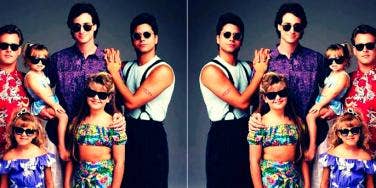 Your favorite family is all grown up!
If you were a child of the late '80s or early '90s, then Full House had a big impact on your childhood. It was the biggest sitcom of the time.
The show was about a widowed father of three daughters who enlists the help of his brother-in-law and some random friend. The three men help raise the three young girls, and hijinks ensue.
The show was known for combining family friendly comedy with family friendly messages. The plots of the episodes usually involved the girls doing something wrong, trying to cover it up, and then Bob Saget giving a heartfelt speech by the end of the episode. He gave so many speeches.
It's not even clear why his kids were ever worried about getting caught because they never got in trouble; they just got a quick speech and a heartfelt piano sting.
The show ended in 1995 after running for 8 seasons. Netflix announced that they would be releasing a reunion show titled Fuller House, which should premier in early 2016.
It's been 20 years since we've seen these characters, so let's take a look at the cast of Full House, then and now.
Photo: Warner Brothers Television
John Stamos
Every girl had a crush on Uncle Jesse, played by John Stamos. He was an '80s bad boy, which means he wore leather jackets and was in a band.
John Stamos
After Full House ended, Stamos kept getting TV work. He had a successful run on ER, and is currently the star of the new show Grandfathered.
Dave Coulier
Dave Coulier played Uncle Joey, a struggling comic who made a lot of silly voices and probably should've gotten his own place a lot sooner in life.
Dave Coulier
Since moving out of the Tanner house, Coulier has focused on stand up comedy and voice work. He also lives with his own wife and not some random family like Joey was.
Photo: Warner Brothers Television
Bob Saget
The head of the Tanner household, Bob Saget played the recently widowed father of three daughters. He was a pretty easy going dad, except he was a huge neat freak.
Bob Saget
Modern day Bob Saget is the opposite of Danny Tanner. He still makes some acting appearances, but he's mostly known for his raunchy stand up routines. Well, he's more concerned with being dirty than funny.
Photo: Warner Brothers Television
The Olsen Twins
The youngest of the Tanner children, Michelle was played by the Olsen twins. During their time on the show and immediately after, the Olsen twins became huge celebrities and made a string of direct-to-video movies.
Ashley Olsen
Eventually, the Olsen twins grew up and moved away from entertainment. They've since become fashion moguls and are still worth billions.
Mary Kate Olsen
Mary Kate had a bit of a rougher ride. She publicly admitted to suffering from anorexia and sought treatment. She was also publicly connected to the death of Heath Ledger, although authorities don't believe she was involved.
Candace Cameron
The oldest sister, DJ, was played by Candace Cameron. Her role in the show was to receive constant speeches about growing up from Bob Saget.
Candace Cameron Bure
Cameron got married in 1996 and is still married, which is pretty crazy these days. She's worked as a host on The View and starred in a bunch of TV movies, often for ABC Family.
Jodie Sweetin
The middle child, Stephanie, was played by Jodie Sweetin. She was really only known for her catchphrase, "How rude!"
Jodie Sweetin
Sweetin had the roughest time after the show ended. She's been married and divorced three times, and struggled with drug abuse. She's sober now, and still appears in the occasional TV movie.
Lori Loughlin
Lori Loughlin broke a lot of young girls hearts when she married Uncle Jesse. She was also Danny's co-host on that TV show he hosted, which means she probably made a lot more money than Jesse ever did.
Lori Loughlin
Loughlin continued to act in TV and movies. She was a regular in the 90210 reboot, and her Wikipedia page lists a bunch of TV movies titled Garage Sale Mystery. We're not sure what that is, but she's been in a bunch of them recently.
Photo: Warner Brothers Television
Andrea Barber
DJ had a really annoying and dumb friend named Kimmy Gibbler. Danny really didn't like her, and neither did the people watching the show. She was played by Andrea Barber.
Andrea Barber
After the series ended, Barber went back to college and got a real job. She hasn't really acted, except for occasional appearances related to Full House.
Photo: Warner Brothers Television
Blake and Dylan Tuomy-Wilhoit
When Uncle Jesse and Aunt Becky had kids, they had twins played by Blake and Dylan Tuomy-Wilhoit. They basically just filled the baby role that the Olsens had grown out of.
Blake Tuomy-Wilhoit
Both Blake and Dylan quit acting and have led normal lives after the end of Full House.
Dylan Tuomy-Wilhoit
Dylan has continued to work in show business, although all of his post-Full House credits are for behind the scenes work.
Previous
Next
BEGIN