Photo: weheartit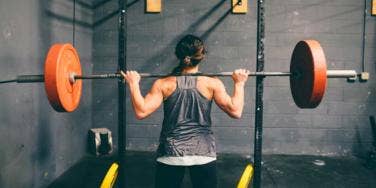 We get it, CrossFit couples, you're better than us. Now stick a cork in it already.
Exercise is good for you. It promotes physical, emotional and mental well-being, and has the fringe benefit of making people want to do it with you more. And that also promotes physical, emotional and mental well-being (all according to a peer reviewed journal, duh).
Sure, it's a colossal pain to get into, and no jury on this or any other planet would convict you if you could just take a pill that would mimic the results. Yet, people who do it with great regularity are pretty irritating.
We then concoct cockamamie theories about the deficiencies of character of anyone who could possibly have the discipline or desire to look super-awesome in a swimsuit. But some people just take it too far. They join the cult of getting good at exercise for the sake of being good at exercise.
We call that cult CrossFit. Athletes and military personnel have been using interval training to get into great shape since before Alexander The Great said, "Let's pretend we're going to attack at night and the other guys will be so tired by the morning that we'll go through 'em like a chainsaw through a Gatorade-soaked Kleenex."
While the idea of "muscle confusion" makes me want to barf up my creatine, the program does a great job of promoting general fitness and real muscle-y thighs. But why do they have to talk about it so much?
Without further ado, here are 10 things we're sick of hearing from CrossFit couples:
1. "The sex is amazing!"
The sex is just SO much better. There's no way non-CrossFit couples have the core strength to do these moves.
2. "Who needs boobs? Look at these thighs!"
None of our old clothes even fit.
3. "We're pretty much addicted to CrossFit."
Well, you know how you like chocolate? That's how we are but with exercise.
4. "We like to use weird acronyms for lingo."
Yeah, the WOD starts in my box but runs outside of it for a while.
Note: WOD = Workout Of the Day, Box = gymnasium. There are other funny words like jerk and snatch that should be avoided, too.
5. "Stop criticizing our pushups!"
I don't know if I would call those pushups. But let's not get started on so-called "kipping" pullups.
6. "No pain, no gain. Really."
Sometimes your pee turns brown. It's just Uncle Rhabdomyolysis letting you know that what you're doing is working.
7. "It's not a cult — we just like hanging out."
We would love to meet you guys tonight but we have a 6:15 AM sesh with our barbell club.
8. "We just really care about our bodies, you know?"
You know, it's much more expensive than your gym but it's really an investment in ourselves.
9. "It's, like, impossible for us to gain weight."
We wish we were like you guys and could add weight so easily. I'm really hitting a plateau in my power clean.
10. "You just don't get it."
We prefer to hang with people who kind of understand what we go through.
11. "CrossFit is for the people."
You're dumb if you even consider other exercise. DUMB.
12. "If you, Tom Miller, tried it, you might like it."
We'd love introduce you to someone super hot at our box. Maybe she'd help you lose some of that "water weight."
Photo: MuellerSportsMed.com
13. "Rock tape is even better than duct tape."
Kinesiology tape can fix everything.
Note: Don't ask about the tape on their shoulders or new penchant for Reebok.
14. "But seriously, bro, the sex is INSANE."
Previous
Next
BEGIN