Photo: WeHeartIt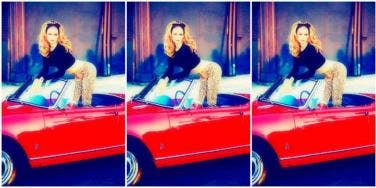 One day a week simply won't do!
We all know men love to ogle sexy pics of celebrities (especially nude celebrities!), but let's not lie: Girls have crushes on a bunch of them, too.
But, we don't have to tell you that because we see it every Wednesday on the 'Gram, as everyone bombards one another with over filtered pics of their favorite, hot celebrity women. But, this week we're celebrating Woman Crush Wednesday (#WCW) a little early.
And we don't care because these women 100 percent deserve the recognition! So, take a look to see the sexiest, sassiest, and silliest celebrity woman crushes of all time and prepare to totally fall in love!
1. Angelina Jolie
A true bad girl gone good — Angelina Jolie went from wearing vials of Billy Bob Thornton's blood, to raising a brood with Brad Pitt and becoming one of Hollywood's biggest humanitarians ever.
2. Beyonce Knowles
I mean, they don't call Beyonce "King Bey" for nothing — her reign is so strong and so big that it exceeds "queendom!" From singing, dancing, mothering, and acting to just remaining poised and confident ... even in sticky situations (hey, elevator!) ... Beyonce is the closest thing to human perfection we have. So with that said, "Bow down, bitches."
3. Emma Watson
Emma Watson is always elegant and refined, even in her wardrobe malfunctions — and she's gorgeous to boot! Hmm, maybe she really does have magical powers.
4. Jennifer Lawrence
Clumsy, self-aware, hilarious, outspoken, beautiful and talented, Jennifer Lawrence is one Oscar winner we all wish was our real life BFF.
5. Tina Fey
From her witty banter on Saturday Night Live's "Weekend Update" to her Sarah Palin impression and her self-deprecation on 30 Rock to her Golden Globes hosting perfection (phew!), Tina Fey is every woman's dream girl: smart, sassy, sexy, and hilarious.
6. Kate Middleton
Who doesn't love a princess? Especially one so elegant!
7. Jennifer Lopez
J to the L-O! That glow, that booty, and the way she shakes it — on top of being a mom, an entrepreneur, and one helluva American Idol judge — Jennifer Lopez is here for the long run.
8. Sofia Vergara
Sofia Vergara is a cancer survivor, a mom, a designer, and an all around hoot And those curves! And that accent! And now, she's finally rid of Nick Loeb. We're not worthy (And neither is he).
9. Shakira
​With a super-high IQ, fluency in multiple languages, humanitarianism, and a hot hubby and kid to top it all off ... who wouldn't love Shakira?
Madonna
If you're wondering why Madonna is one of our woman crushes, consider the fact that she's a singer, dancer, actress, designer, perfumer, mom, gay icon, activist, and avid Instagrammer. Oh, let's not forget that she's 55 and we're still talking about her. The woman is for the Gawds!
Previous
Next
BEGIN