Photo: iStock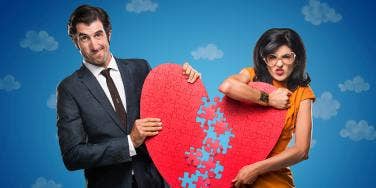 Some stock photography defies explanation.
Every picture is worth around 1,000 words, right? It seems like we've all cosigned on that idea. Sometimes we see a photo and, without context, are totally baffled with what's going on.
It's an opportunity for confusion, misinterpretation, and most of all, creative license. Why is he with her? What's going on with that guy with the burro? Where are they? Is that other guy her dad?
Stock photography, as evidenced on this and every website, is designed to help a reader decide, in conjunction with the headline, if an article is right for a reader and maybe what to expect. But some stock photography defies explanation.
In those cases, it provides expectations to the imagination that no story could ever fulfill. The motives, experiences, and very lives of the models and photographers become the real story ... and you're STILL just offering up conjecture.
Here are 12 stock photo couples that completely defy explanation:
1. An overweight man with a young, attractive woman
"But Daddy, Greg is so much more mature than boys my age. Plus, he's not obsessed with looks. I can't wait to read his screenplay!"
2. An older couple not sharing an emotion
Marriage is drinking champagne punch in the sun ... and hoping your much younger wife dies.
3. A creepily happy woman giving a thumbs down to her lover
And her lover has unexplained whiskey dick. "It doesn't happen to every guy. You're in good shape and haven't been drinking."
4. A naked cosplay couple
What's Elvish for "One of those studs is eventually going to get snagged on her labia"?
5. Lady punching a guy who sort of looks like Ben Affleck
"Joke's on you, Karen! Your wrist is going to be very sore punching like that."
6. Two lucadors on the beach
Couples who lucha libre together stay together.
7. A weirdly nefarious couple
"I just threw a cinder block off an overpass. I'm naughty!"
8. A couple that kinda/sorta look alike
"It's like we're Batman and Robin except we're BOTH Batman."
9. An ecstatic couple in bed looking at a computer
When you and your boo FINALLY agree to which dude you're gonna have a three-way with.
10. Two hipster doofuses
"Sometimes, I get lost in your eyes. I mean, I get lost looking at the reflection of myself off of your eyes. I'm in love with myself and wish you looked more like me."
11. Gingers frolicking in a forest that's also gingeresque
This is a minute before both are irrevocably sunburned.
12. A creepy couple on a swing that can't support their body weights
"No, I are college student. She not on drugs. We are USA couple. Not spies from Mother Russia, at all."
Previous
Next
BEGIN