Photo: JTrav/Instagram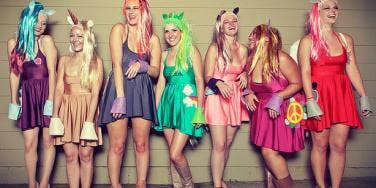 Because coordinating is cool ...
Halloween is way more fun with friends, right. (Unless you're an introvert who's planning on turning out the lights and Netflixing some horror movies — and that's totally OK!).
If you're up for a night on the town or a traipse through a haunted house, you're going to need a Halloween costume.
Instead of everyone trying to one-up each other with their ideas, and having that one random friend who NEVER dresses up because he had NO ideas, you might want to consider coordinating your costumes.
Yep, group Halloween costumes are totally a thing and they're totally big on impact. You'll definitely get looks and laughs and "wow I wish I'd thought of that" comments.
The cast of Big Bang Theory? Muppets? KISS? The options are almost endless. Here are 50 of our favorite group Halloween costume ideas to inspire you.
Britney Through The Years
She's rocked many styles through her career from sexy schoolgirl to serpent whisperer.
Jem and the Holograms
You'll be truly outrageous.
Jellyfish
Simple costume that looks great with a group.
Photo: coolest-homemade-costumes.com
Hocus Pocus
It's just a bunch of Hocus Pocus!
Goldilocks and the Three Bears
A sassy twist on a classic tale.
Flappers
The glitz and glam of the 20s!
Dominoes
Just don't get knocked over!
Disney's Inside Out
You know you and the squad fit these characters.
Photo: coolest-homemade-costumes.com
Disney Villains
For those that don't have an inner Disney Princess!
Johnny Depp Through the Years
So who gets to be Captain Jack Sparrow?
The Powerpuff Girls
Sugar, spice, and everything nice!
Power Rangers
You know they were your favorite superheroes when you were a kid.
Old School My Little Pony
Grab your hooves, pony ears, and colorful dresses for this one! Don't forget your Cutie Marks!
Orange is the New Black
There's always this hit Netflix series.
Mario Kart
Just don't get hit by the blue shell, ok?
Madeline
If your crew is large enough, this may be a cute costume set to do!
M&Ms
Who doesn't love colorful chocolate?
League of Their Own
Super cute baseball uniforms! Why did the female baseball league disband?
Disney Princesses
We've all got an inner Disney Princess.
Cotton Candy
You can really put your cotton candy body spray to use with this one!
Clue
It was really Miss Scarlet, in the ball room, with the candlestick.
Trophies
You'll probably be asked to hold still for this one.
Trolls
You'll be wild and colorful with this one!
Teenage Mutant Ninja Turtles
Because who doesn't like kung fu turtles?
Taco Bell Sauce
Is it hot in here or is it just you guys?
Superheroes
Wonder Woman, Cat Woman, Super Girl ...
Sesame Street
You'll be super adorable!
Spice Girls
Spice up your life! Girl Power!
Social Networks
You know you're obsessed with at least one.
Shark Week
Who doesn't love shark week?
Scooby Doo
Grab your Scooby Snacks - it's mystery solving time (with ghosts)!
Winnie the Pooh
Here's an adorable spin on Disney!
3 Blind Mice
The freedom of shades on your face ...
Chipettes
Who needs Alvin, Simon, and Theodore?
Cards
Take a gamble with the night!
Browsers
I'm sorry to whoever gets to be Internet Explorer - but somebody's gotta do it.
Britney Through The Years.jpg
Bridesmaids
For those that don't want to whip up complicated costumes but still wanna look hot.
Black and White Film
Taking it back to the days before we had techno-color!
Biker Girls
Wild thing! You make my heart sing!
Barden Bellas Pitch Perfect
Do you think you can pull off a routine?
Pretty Little Liars - Red Coats
Super sexy - just don't try to figure out who A is tonight.
Previous
Next
BEGIN