Photo: hipsandcurves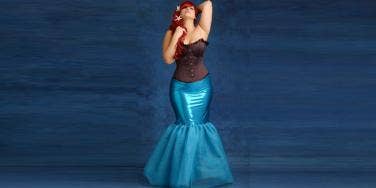 Show off those killer curves!
Halloween can be a tough time for a curvy girl. Remember that time the plus-size Laura Croft became fodder for mean memes and cyberbullying? Yeah, not cool. With various people, to this day, still justifying "fat shaming," as if it's their civil duty to the world to make someone feel like crap by judging them harshly on their outward appearance, it's no wonder so many women and girls have a hard time with self confidence and expressing themselves.
Either you're a plus-sized girl, with those kinds of criticisms around you (from people who really aren't worth your time), or you're not a plus-sized girl, but may be worried about possibly becoming a plus-sized girl because God forbid you be allowed to feel safe and happy in your body no matter what size it is and that your personal health and well being are your own business.
But hey, it'll take a lot more than that mess to stop lovely plus-size ladies such as Ashley Graham, Tess Holliday, Denise Bidot and hundreds of other women from feeling whatever the heck they want and feeling sexy.
No matter the case, these are some pretty awesome costumes to not only inspire you to get in the Halloween spirit this year, but also remind everyone that yeah, you're sexy, and spooky, and whatever else you want to be.
Jessica Rabbit
Because, yeah, hot dayum ...
Maria
Any of the Mario Bros., really, but I just had to show some love to player 1!
Ursula
The baaaaddest sea witch on the block. Ursula is quite en vogue lately, and I'm not complaining! There's so many ways to re-imagine her fabulous makeup.
Mermaid
No one likes a stick figure mermaid. Gotta have curves to fill out this costume!
Princess Serenity
AKA: Sailor Moon, because who doesn't want to fight evil by moonlight, win love by daylight, and be cute while doing it?
Minnie Mouse
A retro spin on a retro girl. Two ears up.
Elvira
The dark never bothered me, anyway.
Lumpy Space Princess
Now this is someone who knows sass, how to party, and love for her curves and lumps.
Princess Fiona
Shrek is love ... and she's a warrior princess ogre. 'Nuff said.
Cruella
Stay warm in some (puppy-less) faux fur with a passion for fashion.
A Big, Beautiful Bat
Another classic for a casual night of flying and being awesome.
Bumble Bee
What's round, cute, necessary for the planet and totally Beyoncé?
Whatever The Eff You Want
Anything you want. Do what makes you happy, because that's what it's all about.
Previous
Next
BEGIN