Photo: WeHeartIt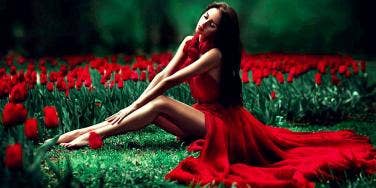 So ... what are you waiting for?
If you knew there were a few things you could do to make you look and feel sexier, would you actually take the time to do them?
Being proactive when it comes how you're perceived by a current or potential lover is crucial to how they feel about you. So, try these things to step up your sexy:
9. Have more sex — with yourself.
Masturbation is good for more than just a really great orgasm.
"When you know how to pleasure yourself, it can help you feel extremely sexy. Knowing that you can make yourself feel good anytime you touch your body allows you to appreciate your skin and the lines of your body. This knowledge can give you a sense of power that comes off very sexy," says Honickman.
8. Take inventory of your confidence level.
Honickman says, "If your confidence could use a boost, in addition to some creative mantras, close your eyes and think about a time in the bedroom that you felt your most confident. Recall the sights, sounds, tastes, smells and feel of every detail.
When we concentrate and tap into each of our senses around a memory, our brains don't know the difference between us really being there and our imagination. As the memory becomes as clear as possible, touch your index finger to your thumb on your dominant hand." You'll feel better in no time.
7. Stay positive when talking to yourself.
We all have an inner voice that's directly responsible for the way we feel about ourselves and others. When you start being aware of the things you tell yourself, you'd be surprised what you can learn, says Honickman.
If you want to become sexier to your lover, come up with a few mantras. For example, "My body is so sexy, my honey can't keep their hands off of me," "I'm so hot, when it rains my skin steams," or, "My sexual power defies all logic!"
6. Drink more water.
"Keeping yourself hydrated keeps your skin glowing, your energy levels controlling calories, it aids endurance, and even puts you in a better mood," Dr. Cory B Honickman says. Drinking water for you is great in general — it keeps you healthy, keeps energy levels up, and helps you sleep better and maintain a healthier weight.
5. Express happiness.
Women who cry less or emote less are more sexually attractive to guys, says Rapini.
"After sniffing odorless tears from women who cried during a sad movie, men in a study were less attracted to the opposite sex and less sexually aroused — as assessed by self-reports, physiological measurements and neuroimaging tests — than men who sniffed saltwater. Their testosterone levels also sank," reports ABC News, from a Science Express study.
4. Have a sense of humor.
Laughing when a guy jokes enhances sexual attraction, says Rapini. And don't forget to smile, because smiling naturally makes you more attractive. There's lots of research on this.
In fact, studies have shown that we equate the ability to laugh and be funny with higher intelligence. You need to be smart to tell a good joke, and humor is an interpersonal ability that we link with social and emotional connectivity.
3. Incorporate red into your wardrobe.
Men are very attracted to the color red. "This is one reason women who are bold enough to wear red lip stick or gloss are seen as sexier ... although I'm not sure guys know why. It's the red!" says Rapini.
2. Experiment with natural aphrodisiacs.
Libido and desire play a huge factor in a relationship, and natural aphrodisiacs can make a person feel sexier, says Rapini. This includes natural vitamins such as Stronvivo (an informed choice certified nutritional supplement comprised of L-Arginine, and other ingredients), which is designed to boost nitric oxide production, thus improving blood circulation and libido.
Previous
Next
BEGIN