Photo: Getty Images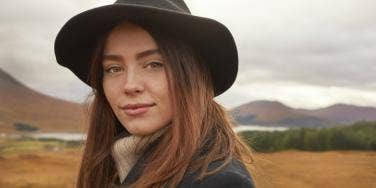 Who knew?!
Everybody is obsessed with their eyebrows. We pluck, wax, shave, tint, and thread them, and some women even get eyebrow-hair transplants.
Brows are huge now, and rightly so, as they're the often overlooked, but crucial, key feature of the face. In fact, we recognize people more by their brows than their eyes, nose, or mouth.
In the study "Facial Expressions: A Study of Eyebrow Movement During Conversation," researchers speak about how much we communicate with just our eyebrows: A raised or lowered brow can show a full range of emotion and attitude. Our brows also convey a sense of humor or doubt, and sometimes we don't even have to say anything to communicate how we're feeling.
Check out these crazy photos of celebrities without brows.
1. Cara Delevingne
Lush brows highlight her eyes, but her eyes are intense even without eyebrows.
2. Lilly Collins
Luckily, she didn't inherit her brows from her famous musician dad.
3. Sarah Hyland
This Modern Family star shows why everyone needs beautiful brows to complete their gorgeous look.
4. Miley Cyrus
Miley without eyebrows is her most shocking look yet.
5. Selena Gomez
Now you see 'em, and now you don't.
7. Taylor Swift
Don't shake off your brows, girlfriend.
8. Beyonce
Sasha Fierce is extra-fierce without any eyebrows.
9. Charlize Theron
Brow-less, but still a badass.
10. Julianne Hough
Her brows are dancing with the stars.
11. Rita Ora
She ROCKS this no-brow look.
12. Sofia Vergara
Beautiful without brows, but crazy beautiful with them.
13. Kim Kardashian
Kim can make anything look good.
14. Brooke Shields
She became famous as a child actor, partially due to her brows.
Previous
Next
BEGIN