Photo: Twitter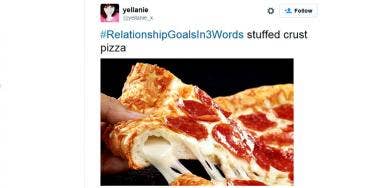 My submission: "I'm still single."
Everyone has an idea of their picture-perfect relationship. They imagine ideal date nights, how they'd shower or be showered with affection, and the ultimate goals for both partners.
Maybe you'd like to model your ideal relationship after your parents', or you desire to hear these sweet words from your partner's lips: "Do you want food?"
If you could describe your relationship in words, what would those words be?
Last week, #RelationshipGoalsIn3Words trended on Twitter. Users described goals for their relationships with just three words, with the results varying from heartwarming to silly to referencing pop culture.
As advocates for love and romance, we thought we'd gather and share a few that stood out. (And be sure to check out the tag here.)
1. Pop my bacne.
You know it's true love if your partner will do this for you.
2. Pay my mortgage.
Sugar daddy or not, a girl/guy can only dream, right?
3. Let's raise puppies.
Who doesn't want to raise big fluff balls of energy?
4. We're breaking free.
Whether it's dancing to High School Musical or modeling your relationship after Troy and Gabriella, just know that you're both in this together.
5. Ron and Hermione
There's nothing more magical than having a partner who also happens to be your best friend.
7. Netflix and food
For every relationship that can't afford 5-star restaurant dinner, this is the best date night ever.
8. Cory and Topanga
Every Boy Meets World always dreamed of having the love story of Cory and Topanga — best friends since toddlerhood who grow up to be lovers.
9. Carl and Ellie
Yes, from Up! Honestly, has there ever been any other love story that made you cry in just 6 minutes?
10. Guilt-free farts.
In the end, isn't farting freely what we really want in a relationship?
Previous
Next
BEGIN