Photo: AMC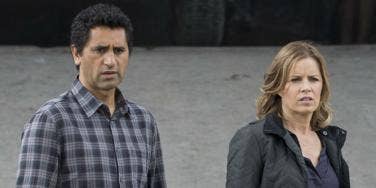 No characters in 'Fear The Walking Dead' are equipped to survive everyday life, let alone a zombie apocalypse.
Did you watch the premiere episode of Fear The Walking Dead? Apparently, everyone did. While numbers-wise it was a huge success, based on what people are saying on the internet, the reaction has been a bit mixed. Sure, a lot of people liked it, but there were also a lot of complaints. The main complaint was the main characters. While people liked the setting, mood, and zombie action, they couldn't stand the family at the center of the story.
Just in case you don't know, Fear The Walking Dead is a prequel to the hit series The Walking Dead. It tells the story of a family living in Los Angeles right as the zombie apocalypse is starting. It shows how society begins to crumble as the dead begin to rise. At the start of the show, the main characters aren't even aware that zombies can exist.
The main problem with the main characters is that none of them act appropriately for an apocalypse or even for regular life. They just kind of do everything wrong. Which is fine, because there are dumb people in real life. The issue is that the audience is supposed to believe that these people have some sort of chance of surviving. There's no way these bumbling oafs are going to survive the zombie horde that's coming. Here are 10 legitimate reasons why everyone on Fear The Walking Dead would seriously never survive a week of normal life in Los Angeles, let alone an hour in a zombie apocalypse.
1. They're already horrible with regular life...
The show starts before the apocalypse has begun, but these characters are still constantly startled by regular people doing regular things. There's a scene where the mom sees the principal in his office, with his back to her, and she approaches him super cautiously. When it's revealed that he's just doing work, you have to wonder why she thought anything else would have been going on.
2. ... But they barely react to actual insane stuff.
When seeing a video of a zombie pop up online, it's understandable that everyone doesn't immediately go "Oh, there are zombies now." Still, it's a pretty shocking video and they all just watch it and not let it register. Later that same day, when they see a zombie, they act like they didn't see the earlier video. They're terrified of a regular principal doing his job, but a guy who's acting like that crazy guy from the video doesn't bother them at all.
3. They like to stand and stare a lot.
Once again, it's understandable that the characters aren't immediately open to the idea of zombies. They should still recognize dangerous situations and know when to run away. A guy who's covered in blood and sneering at you is clearly someone you should keep some distance from.
4. They won't call the police ever.
Once again, pre-zombie apocalypse. Cops are still around and doing their jobs, so maybe call them once in a while.Especially if you see someone who's clearly just committed a murder.
5. They love to investigate.
When the characters hear about a drug den that something horrible might have happened in, they go by themselves to investigate it. They also don't bring any weapons. Hey, drug dens are real and everyone knows that they're dangerous. How are they going to survive zombies when they're already barely surviving regular life?
6. They talk about the future a lot.
It's a really obvious trope in stories like this to have characters talk about future plans and then kill them off. The more someone plans for their future, the more likely they are to end up doing the zombie shuffle.
7. They don't see their own foreshadowing.
The writers of the show clearly thought having the English teacher give a speech about how in man vs. nature, nature always wins, because he repeated the same speech four or five times. At that point, shouldn't the character in the show be like "Hey, I keep saying this, shouldn't this be relevant?" Also, he basically spelled out that they shouldn't survive.
8. Seriously, they still won't call the cops.
Sorry to bring this back up, but it kept happening! It's weird not to call the cops right away, but when even more freaky stuff happens? Cliff Curtis' character ignored a bunch of murder scenes multiple times and they never explain why! His DNA is everywhere now!
9. They can't even put on shirts properly.
In the opening scene, it was super weird that the heroin addict had such a light, billowy shirt while he was running the down the street. It was obviously supposed to be a fancy shirt, but he's a heroin addict. Heroin addicts aren't exactly known for wearing nice clothes. Also, if it's falling off of you anyway, why not just take the damn thing off?
10. They're too stuck in their routines.
After Cliff Curtis discovers a grisly murder scene, instead of calling the cops, he just goes to work. It doesn't effect his day at all. He's not disturbed by it or anything. He just goes and teaches his class like normal. He's got to learn to react to stuff if he's going to survive what's coming.
Previous
Next
BEGIN