Photo: Instagram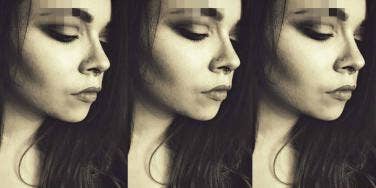 Cute or creepy?
They were popular in the time of early hiphop music and now they're blowing up Instagram. Yes, brow cuts (or eyebrow slits) have returned.
It seems as if there's some disagreement over what to call these shaved brows. Back in the day it was cuts, and now people are trying to re-brand them as slits. Seriously, slits? I'm sticking to cuts.
This look works on both men and women. These tiny lines are usually on just one eyebrow, but you can do both. The number of cuts is also up to you.
I like any fashion or beauty trend that almost anyone can do, that doesn't cost a lot (or any money), and that gives people who get a little over-excited by plucking their eyebrows an excuse. "I meant to have a big gap in my brow ... it's trending."
Check out these photos of people who have made the cut. Seriously, it appears to work on everybody, and if it doesn't work on you don't worry; your eyebrows should grow back.
Photo: Instagram/_helenaa20_
1. The art of the brow cut.
If you've got a razor, you can do this.
Photo: Instagram/mikey_adonis
2. It also works really well on men.
A universal trend we can all get in on.
Photo: Instagram/sweetsweetelizabeth
3. Even one cut makes a difference.
And makes your brows look super cute.
Photo: Instagram/300xsilviatriip
4. Brow cuts intensify the eyes.
5. And they're a great way to express yourself.
It pairs well with piercings, too.
Photo: Instagram/fruityvegetables
6. Everyone should have a little fun with their brows.
Especially when it's so simple and easy to do.
7. Fitting for any mood you're in.
Happy, sad, reflective ... you get the point.
Photo: Instagram/mara_swvl
8. It's a great way to complete a look.
And goes perfectly with the lipstick.
Photo: Instagram/bigtwon87
9. They make you look extra cool.
This works especially well without a shirt.
Photo: Instagram/bloodborne_r4
10. You can even cut both brows.
One eye or both, either way is acceptable.
Photo: Instagram/gina.simmonds
11. It's proof that some things are still trendy.
Even if it's from way back in the 90s.
Photo: Instagram/harryqureshi
12. It's a nice mix of nostalgia and current fashion.
We're definitely feelin' it.
Photo: Instagram/amynguyen_0411
13. See how easy it is?
Add some nice lighting, too, and you'll look extra lovely.
Previous
Next
BEGIN