Photo: makeupbyjakejamie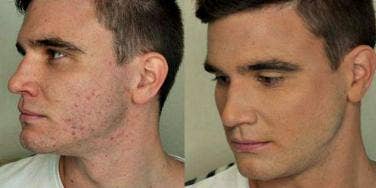 Makeup for men is here: Is that a good or a bad thing?
When British beauty Vlogger Jake-Jamie Ward (AKA The Beauty Boy) was growing up, he had terrible acne, so he knows what it's like to feel so badly about one's self that you don't want to leave the house.
According to an article in the Daily Mail, he spent hundreds of pounds (around $600 dollars) on products trying to cover up his own skin. During his time of discovery, he decided to share his knowledge with other men (straight or gay) who also suffered from all kinds of skin conditions such as acne, Psoriasis, Rosacea, and the scars they sometimes leave behind.
Since The Beauty Boy couldn't find many makeup tutorials that weren't aimed at women or drag queens, he started his own YouTube channel.
His vlogs cover everything from the best fake tan products to makeup tips for men. His style is honest, friendly, and easily relatable. He makes everybody who feels self-conscious about their appearance feel like there are things they can do to help themselves.
Anyone, whether male or female, can find great information on his website, Instagram, Twitter or YouTube channel.
There's been a stigma about men wearing makeup for a while, but why shouldn't they if they want to? Men, both gay and straight, have been doing little things like using cover-up for a long time.
In a piece in Brit +Co, he gives his number one tip for achieving that no-make-up look: "Avoid using under eye concealer too close to the lash line; this really emphasizes the fact that you are wearing makeup," he instructs.
Although he only started his makeup vlog less than a year ago, he already has almost 5,000 subscribers, and seems ready to take over the makeup world.
It's wonderful when someone can be successful and help so many people feel better about themselves at the same time.
1. The Beauty Boy himself
"Makeup makes me feel good, complete, and ready to take on the world!"
2. Creag suffers from Psoriasis.
"Then I found makeup. It gives me enough courage to leave the house and even crack a smile each day."
3. Alex developed Rosacea without warning.
"Makeup has nothing to do with gender or sexuality."
4. Danny's frustrated with his acne scars.
"If it wasn't for makeup, I don't think my level of self-esteem would be anywhere near what it is today."
5. Stuart was self-conscious in photographs.
"Using makeup allows me to enjoy a night out and gives me the confidence to have my picture taken in different lighting."
6. Philip endured acne.
"I definitely have more confidence wearing makeup. I used to keep it a secret but now I've started to open up."
7. Maxim deals with oily skin.
"I feel confident without makeup, but with makeup I feel like I'm putting my best face on and pampering myself."
Previous
Next
BEGIN