Photo: weheartit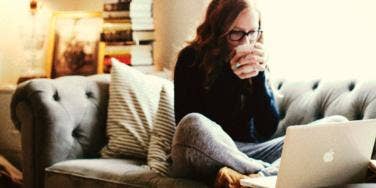 We won't tell.
Type, eat, type, go home, repeat.
We know you live on your computers at work, and we also know that you are probably logged onto Facebook, secretly playing Solitaire and pretending you aren't on BuzzFeed. Well that's cool, because we are too.
If you are already up to date on the latest Tumblr posts and need some new distractions, we've compiled the best websites to feed your procrastination (because we aren't afraid to encourage your lack of work effort, we're not your boss).
1. StumbleUpon
Not sure what you are looking to procrastinate on? Let StumbleUpon be your guide. You tell them what you like, and they'll collect for you the best websites specific to your interests, anything from crazy photos to hilarious videos to shopping sites, so you'll never be bored again.
Evil geniuses.
10. What If?
Ever had a ridiculous question you wanted answered? Check out What If, the site that will give you real, scientific solutions to extremely hypothetical questions. Just in case you plan on digging a hole to escape your office, you might as well know your chances of getting out safe.
9. This Is Why I'm Broke
Browse your own online version of Sky Mall and buy things you really don't need on your company's credit card. Because every company needs glow in the dark toilet paper and a bubble wrap calendar.
8. I Waste So Much Time
You might as well be honest about it. Waste your time on this Tumblr-type website and scroll through entertainingly stupid photos.
7. Betches Love This
We love it. Get the dish online on what betches are talking about and try to contain your laughter so your boss doesn't notice what you are doing.
6. Rainy Mood
What's the perfect way to soothe your work stress? Tune down the music and turn up to the sound of a rainy day as you work. Or don't work.
5. Sleepytime
You know why you are so tired at work? You keep waking up in the middle of your sleep cycle, silly.
Spend your last remaining energy at work calculating when to go to sleep and wake up every morning with the Sleepytime calculator. More energy means more web surfing!
4. The Useless Web
Like a less strategic StumbleUpon, The Useless Web will take you to sites you never thought existed, or were ever necessary on the web. Website roulette anyone?
3. Clickhole
Tired of BuzzFeed being real and all? Have no fear, The Onion will give you the latest news on nothing important or accurate on ClickHole, their version of BuzzFeed.
Check out fascinating articles such as "The Dark Side Of Celebrity: Chris Pratt Won't Star In A Movie Unless You Pay Him Money" or take a quiz on "What Is A Good Gift For My Very Serious Nephew?". Because all content deserves to go viral, even if it's completely irrelevant.
Photo: jacksonpollock.org
Previous
Next
BEGIN