Photo: Curvy Girl Lingerie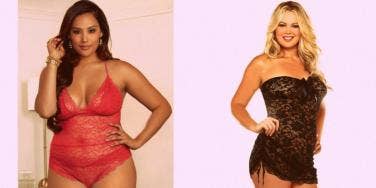 Sup, shorty?
When you're short and curvy, it's a constant battle to find clothes that fit ... let alone hot lingerie that fits. I get it. And that's why, at my Plus Size Lingerie boutique, we're always searching for styles that will fit all kinds of curvy bodies.
Here's the ultimate lingerie key, though: Wear what ever you feel sexy in. Don't let anyone tell you what that is or how to rock it!
If you're not exactly sure what risqué styles would work on your short curvy frame, click through the slideshow below for some suggestions from my boutique. (Bonus, they're all available online!)
Photo: Curvy Girl Lingerie
1. The Vera
Not only is the Vera ($42) a two-piece (which I love), it's incredibly soft. The cami has adjustable straps, and it's not crazy long. The boy shorts are also another favorite because they really enhance the booty, and the pink lace is just HOT. I often wear this to bed, even when I don't plan on getting any action.
Photo: Curvy Girl Lingerie
2. The Jessie
The Jessie ($45) is another great one! It has a sweet and sexy pin-up, baby doll look. The cups have removable pads to add a little extra lift, and the straps are adjustable. (Plus, it comes with a matching mesh thong!)
Photo: Curvy Girl Lingerie
3. The Black Strapless Lace Dress
The Black Strapless Lace Dress ($40) is perfect for the short curvy gal because it isn't super long and the side is adjustable with a tie. So if you want it a little longer or shorter, you can easily adjust it. The soft lace is also really flattering!
Photo: Curvy Girl Lingerie
4. The Beyonce
The Beyonce ($80) is one of those pieces that looks good alone at home OR out with a sexy pair of leggings. It's a sexy full boned coret with a zippered back, so you don't have to worry about pinching or tugging anything. Bonus: You can wear it with the straps on or off the shoulder.
Photo: Curvy Girl Lingerie
5. Amnesia Seamless Hot Dress
The Amnesia Seamless Hot Dress ($30) is what I like to call a "trashy on purpose" dress. There's nothing sexier than a dress that clings to your curves. It comes in one Queen size, which fits up to a size 26. Go ahead, throw it on and drive your partner WILD!
Previous
Next
BEGIN