Photo: WeHeartIt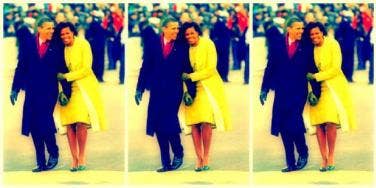 The first couple is full of sweet sentiments for each other.
For Michelle Obama, being the first lady means being married to the love of her life, Barack Obama.
Often times we look up to celebrity relationships (yes, we've all been guilty, at some point or another) but most times it's unrealistic and foolish to do so.
Why? Well, because we have no clue what's for show and what's for real with any couple who's in the limelight. (If you've watched Scandal, you know that a good publicist can make a bad marriage seem peachy keen.)
However, I'd like to think that President Barack Obama and First Lady, Michelle Obama are the exception to the rule. They're the epitome of what a classy couple should look and feel like (feel as an energy, of course) — they bring nothing but positive vibes to our community through their love. So, in honor of one of our favorite famous couples we've put together a list of the best quotes that paint the true essence of their love.
1. Young Love
"I want the young people to pay attention because, see, back when I first met Barack, we started dating, he had everything going for him. All right, ladies, listen to this. This is what I want you to be looking for. Yes, he was handsome — still is. I think so. He was charming, talented, and oh-so smart, truly. But that is not why I married him. Now, see, I want the fellas to pay attention to this. You all listening? What truly made me fall in love with Barack Obama was his character. You hear me? It was his character. It was his decency, his honesty, his compassion and conviction." - At a speech at Morgan State University in Maryland
2. Happy Anniversary
"Happy 20th anniversary, Barack. Thank you for being an incredible partner, friend, and father every day. I love you!" - Via Twitter on their anniversary
3. All Smiles
"I can never tell, but I'm always primed just in case he is, so I'm perched. I'm looking at him, I'm smiling. I assume that he can make sure that I'm always giving him that positive love." - On whether or not he is going to look over at her during the debates.
4. Articulate Man
"He was able to articulate a vision that resonated with people, that was real. And right then and there, I decided this guy was special. The authenticity you see is real, and that's why I fell in love with him." - After seeing him "in action" public speaking.
5. In Touch with His Emotions
"One of the things that attracted me to Barack was his emotional honesty. Right off the bat he said what he felt. There are no games with him — he is who he appears to be. I feel fortunate as a woman to have a husband who loves me and shows me in every way. So yes, I do know that. And now he'll know I know." - in an interview with Prevention.
Previous
Next
BEGIN