Photo: IMDB.com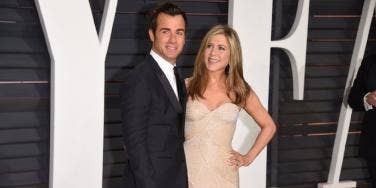 He's more than just Jennifer Aniston's trophy husband!
Well, after years of waiting, Justin Theroux and Jennifer Aniston have finally tied the knot. The two wed in a secret ceremony on August 5, 2015. They've been engaged since August, 2012. That's a long time to be engaged, but it takes a lot more planning to do something in secret.
The two met on the set of the film Wanderlust, which was a huge bomb at the box office. That's probably another reason why it took them so long to get married. They both had to bounce back from that stinker before making any major life and financial commitments.
Also, they probably didn't want anyone mentioning anything about it at the wedding. They had to give people enough time to forget about it.
Jennifer Aniston is a household name, most famous for playing Rachel Green on Friends. Justin Theroux, on the other hand, is much less famous. He's so much less famous that while my spell checker recognizes the word Aniston, it keeps telling me that Theroux isn't a word.
Well, he's still a good actor with a pretty interesting career. Here are 10 things you might not have known about Justin Theroux:
Photo: The Samuel Goldwyn Company
1. "I Shot Andy Warhol" was his film debut.
Justin Theroux started his film career in the movie I Shot Andy Warhol. He wasn't the one that shot Warhol, but he must've impressed director, Mary Harron, because she used him in her next movie...
2. American Psycho
American Psycho wasn't a hit when it came out, but it's gone on to become a cult classic. Theroux plays a snobby friend of the main character, played by Christian Bale.
Photo: Paramount Pictures
3. He was the DJ in Zoolander
He might be hard to recognize, but Theroux also played the DJ assassin from Zoolander. Luckily, he decided that this wasn't a good look for him.
4. He's the guy in Muse's "Hysteria" video.
Theroux also appeared in the music video for one of Muse's earliest hits, "Hysteria." He plays a guy who trashes his hotel room and has an unpleasant encounter with a prostitute.
Photo: Universal Pictures
5. He met Jennifer Aniston on "Wanderlust."
One of his most important roles was in the movie Wanderlust. The movie actually bombed, but it was on that movie where he his future wife, Jennifer Aniston.
Photo: Paramount Pictures
6. He had an ironic appearance in "Megamind."
In Megamind, Theroux has a brief cameo as the father of Megamind. Megamind goes on to be the archvillain of the heroic Metro Man, who was voiced by Brad Pitt.
Pitt is the ex-husband of Jennifer Aniston, who would eventually marry Theroux.
7. He appeared on "Ally McBeal."
Early in his career, Theroux appeared in an episode of Ally McBeal. This was before Robert Downey Jr. joined the cast, but the two would eventually meet.
Photo: Dreamworks Pictures
8. He wrote "Tropic Thunder."
He and Robert Downey Jr. met they worked together on Tropic Thunder. Theroux wrote the screenplay for the movie, and he impressed RDJ so much that...
Photo: Paramount Pictures
9. He wrote "Iron Man 2."
... Robert Downey Jr. helped Theroux land the gig of writing Iron Man 2.
Photo: Touchstone Pictures
10. He was also in "Romy and Michelle's High School Reunion."
Oh, he also appeared in another cult hit, Romy and Michelle's High School Reunion. Theroux loves appearing in cult movies!
Previous
Next
BEGIN