Photo: hookingupandstayinghooked.com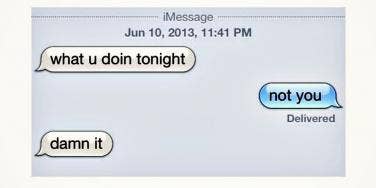 Whoops.
If I could give one blessing to each and every person I don't actively hate, it would be this: "May all of your humiliations be private ones."
Every one of us has experienced failures which have brought us no end of pain and shame. We've all been publicly mocked for our shortcomings. We've all been laughed at when we so desperately wanted to be laughed with. We've all felt the sting of a degradation that was borne exclusively of our earnestness and vulnerability.
Each of us has known comeuppance due to us by the boldness of our actions. Because of this, we should treat each other kindly and with the most compassionate empathy when our mortifying moments come to light.
That said, let's all laugh at these horrible hookup attempts that have gone wildly off of the rails.
And if you're up to it, check out Eli Manning playing every single, sort of drunk guy you've ever met.
Photo: HookingUpAndStayingHookedUp.com
1. Sorry, bro.
Whether you're giving a toast at your daughter's wedding or making a pair of blue balls purple, brevity is your friend.
2. Measure twice, hit send once.
Let's not kid ourselves. This whole stinking Tinder racket is a numbers game from the word "go."
Unfortunately, "Josh" hasn't learned the trick of not letting those numbers know they're ... well, numbers.
3. Surprisingly free of typos.
OK. Some numbers are important. Like what time it is. Some people do just want to hang out as friends at 4AM.
4. James Franco is a national treason in ALL nations.
Even famous dudes sometimes don't have the best discretion. Though you'd guess with what odd duck James Franco is, this could've been an art project and the joke's on us for not getting it. Though, probably not.
5. You could say that they have ... *history* together.
To be fair, she started it by asking for a word that 99 times out of a 100 means intercourse: "the thing." Great use of emojis, if we're handing out unnecessary compliments.
6. The perks of being a congressman.
Just because you're an elected official with a terribly on-the-nose last name doesn't mean you can't swing at being strange on Twitter.
To think, Anthony Weiner's chiseled chest could've been Pope of Brooklyn one day if he'd kept it on the DL.
7. If I had a nickel for every time an ugly person wasn't into me...
You know what, anonymous guy on the internet? You're probably right — she doesn't want to hook up wit you BECAUSE she's so ugly. Way to solve the case, Rust Cohle.
8. Is this better than walking in on you masturbating?
I'm not sure that his doctor said that. You can exclude certain people from your newsfeed, guys. Know your audience.
9. Never Facebook friend your grandma.
As ghoulish as it is to say, I think my grandma was MUCH better off dying before Facebook. Had this young fella only been so lucky. Again, know your audience.
10. Tough to make a good joke when someone died.
11. I should've guessed that a porn actress's BF has good dick game.
Direct Message does NOT mean private, confidential message, evidently. Unfortunately for Buffalo Bill's safety Duke Williams, Mia Khalifa decided to let all of us in on that revelation.
Williams is in mediocre company. Khalifa said that Drake was sweating her, too.
Previous
Next
BEGIN