Photo: WeHeartIt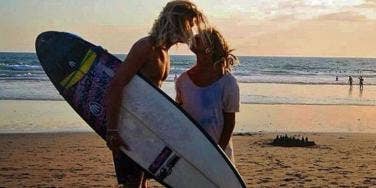 Hang loose!
By Logan Verlaque
In the words of the rad Jeff Spicoli, all I need are some tasty waves, a cool buzz, and I'm fine.
The chillest of the chill and the most adventurous of the daring, they are the water riders and rip curl catchers who glisten on the shore, board in hand. Is it their salty sun-kissed skin and beachy waves? Or radical rip curling' calves?
Whatever it is that throws us off the Richter, we will hang 5, 10, 15 or 20 to leash one to our board. No easy game of catch and release, we suggest throwing your net wide, releasing some bitchin' bait, and reeling in one catch of a surfer.
Don't worry. We won't leave you high and dry. We have the secrets to the takeoff and ripping of dating a water glider, wave rider.
1. Chillllll
Calm your vibes and chillax. Easy-going and carefree, leave your feminine fears on the shore and embrace the ways of the wind blowing and ocean breeze.
In the name of the sun, the sea and the surf, put on your I'm-down-for-anything hat and embrace the unknown and unexpected.
PSA: Don't be clingy.
2. Hang 10
As the sun's rays perfectly highlight your hair and the summer breeze brushes your dewy skin, representing your dude on the shore's edge better have you looking all sorts of hot and cool.
With a body to match your surfer's lean chiseled "temple" (aka hit the gym asap), sunglasses and a bikini is all you need. But supporting your man's 4am call time from the waves, throw on and cosy up in one of his broken in tropical shirts. Mmmmm mmmm Yum.
Ray-Ban Sun Glasses, 159.00
Vintage Hawaiian Shirt, $69.00
3. Right On Beachy Waves
Before you're beach bound and proudly holding the calloused hands of your boarding beau, you've got to mimic the appeal. We are talking the beachy waves that will soon be natural.
A rough blow dry, a spritz of sea salt spray and a little tszuj and you're a grade A honey. Surfs up you little surf bunny.
Bumble and Bumble Surf Spray, $15.00
Hair Chemist Coconut Oil Revitalizing Shampoo, $7.79
4. A Surfer's Diet
Burritos for brecky and midday coffee bombs, surfers chow down on all types of grindage whether its high tide or low, so now you do too.
Unless you're bringing some fresh coconut water from the shore, leave the green juices and gluten free sandwiches in the sand, and bring the appetite of a surfed-out gf. Aloha to tacos, fish finger sandwiches and hot dogs.
5. Surf's Up Getaway
J-Bay's rad, but no need to dip your toes too far off your local shores. Oceanside and decked out in your surfer catching best, scan the waves at the Beach 92nd Street in the Rockaways and the crisp curls of the Montauk waters. Right on.

Rockaway Beach Surf Club, Rockaways, Queens

The Surf Lodge, Montauk, NY
7. Out Of The H2O
Word on the beach says surfer girlfriends look equally as wavy out of the water as they do seaside and sandy. Vintage jeans and his most broken in of band tees, barefoot board walking couples never looked so effortlessly cool.
But this ease of beachy laid-back style makes no excuse for unkept nails and ratty lingerie. After all, it is what's underneath that counts, right?

Urban Renewal Vintage Levis 517, $69.00

Vintage Budweiser Dead Stock T-shirt, $98.00

Gorjana Dev Foot Chain Anklet, $75.73
8. Beach Bunny Bag
Babe, snap me while I catch this wave.
You will be his professional photographer and cheerleader, up to shoot the morning carves and down to delete any candid memories of evening wipe outs. If he needs to wax and rub down his board (sorry, step aside), you will be ready with his favorite wax in one hand and a Corona in the other.
Bunnies lacking patience and supportiveness need not apply.
9. Pipeline Beauty
Some bronzed beauty is a gift from the Solar Deity himself, but raunchy t-storms and thus your beau's best ocean rides, require a little fuss and muss from costal beauty gurus. Fake a natural glow and Bambie-like lashes batting for surfer attention.
But don't dip to protect your precious skin from harsh sun rays, surfers don't like a burn.
Shiseido Ultimate Sun Protection Cream SPF 50+, $36
Blinc Mascara, $26
10. Surfer Window
The time has come the walrus said...sometimes the truth is harsh.
The journey to catching a surfer is filled with bail outs and avalanches, the reel in requires the strength of Poseidon and most of the time your surfer just wants to be released back to the motions of the oceans. You better love a.m. wake up calls to stroll the beach, treasure your excessive amount of alone time, deal with cranky days of calm waves and enjoy being second fiddle to his shiny new Hadenshapes board, or you ditch the shores and hope to find some better luck back on land.
Skateboarders anyone?
Previous
Next
BEGIN