Photo: Happy Madison Films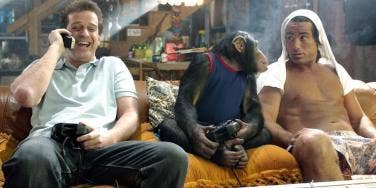 Sorry. We would rather be lonely.
The human body is a complicated machine. It's really hard to maintain, and everything you do can affect another aspect of your life.
Sometimes, some seemingly random behavior can have a devastating effect on another important part of your life. Take sex, for example. There are a bunch of small habits you might have that can have a huge effect on your sex life.
A recent study collected some of the biggest offenders. You may not realize it, but you might be spending the majority of your day just killing your libido. According to this study, your libido is apparently incredibly fragile.
Also, a lot of things that hurt your libido are also super satisfying. In all honesty, after reading the study, you're going to have to make some tough decisions.
I read it, and in response, here are the bad habits that I'm not giving up. I know what effect they're having on me, but they're totally worth it.
Photo: Universal Pictures
1. Keeping our collection of superhero comics in plain view.
Having distractions in your bedroom can make it harder to focus on the lovemaking. Well, we're not getting rid of our Spiderman posters. Yes, they mean that much to us.
2. Eating a diet entirely composed of junk food.
Avoiding junk food is the best way to keep your body working the way it's supposed to. It's also a great way to avoid stuff that tastes good.
Photo: Universal Pictures
3. Drinking too much to make it impossible to achieve an orgasm.
It's a good thing we know when to stop.
4. Eating foods that give us gas.
Look, we're not saying that we like to fart. We're also not saying that it doesn't feel really good to fart. It does, and we love it. We're never giving it up.
Photo: Walt Disney Pictures
5. Getting fat.
Exercising is really good for you. You know what else is good for you? Not telling us to exercise.
6. Taking up smoking.
Look at Arnold in this picture. We know smoking is super unhealthy, but oh man, doesn't he look cool?
Photo: Universal Pictures
7. Masturbating a lot.
Not to get to gross, but there's an appropriate amount of self-love you're supposed to partake. Look, we're not going to start doing that on a schedule. If we're doing it too much or not enough, too bad. Everyone's just going to have to deal with it.
Previous
Next
BEGIN