Photo: WeHeartIt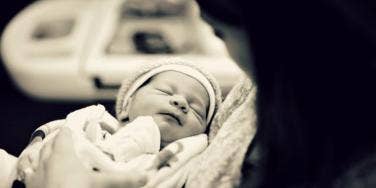 The moment a mother meets her baby for the first time after birth is a moment that surpasses words.
There's a lot I could say about the moments right after a mom gives birth.
There's the sweet, sweet relief of knowing you did it and that you're done with being pregnant; there's the hopeful straining to hear the beautiful sound of a healthy baby crying, lungs filling with air for the first time; there's the crazy high of literally having your entire world in your arms, a hormone-fueled rollercoaster that nothing can compare to.
But really, when it comes right down to it, words are pretty pointless to describe what it's like to give birth and see your baby for the first time. So instead, we have pictures where words are unable to do justice.
1. Nikki Addimando
"Once I learned I was pregnant again, one of my first thoughts was, 'I'm NOT doing it like that again.'" It just didn't feel right or natural for me.
I wasn't sure what I wanted to do, but the thought of going to the hospital, delivering a baby, and leaving my son at home wasn't even something I wanted to entertain," said Addimando of her decision to deliver her second baby at home.
Photo: Nikki Addimando/Early Mama
Nikki gave birth to a daughter named Faye Winter
"Pregnancy is a natural state for a woman's body to be in. We are made to do this. We CAN do this. We don't always need medical interventions," Addimando described on her sister's blog.
"Women have been doing this forever, and they will continue to do this forever. We are so much more capable than we realize. It's pretty amazing, actually."
Photo: Nikki Addimando/Early Mama
She even had her son by her side for the birth.
"He stayed by my side and stared at the baby while I delivered the placenta. He was in awe over all her tiny features, and seemed like he both expected and accepted what had just taken place," Addimando said of having her two-year-old son with her at the birth.
"He was right there, kissing his new baby sister's head while she was still attached to me and laying on my chest. The smile on his face told me that I made the right decision. He was absolutely delighted."
2. Kristel Acevedo
"This was right after Isabel came out of me," Acevdeo describes. "She was a surprise breach baby born at home in the water. I had no idea she had come out backwards until I pushed, looked down, and saw her whole body instead of her head."
But a breech birth didn't stop her from immediately falling in love.
"I pushed once more and her head came out and she went immediately into my arms," Acevedo says. "Needless to say, I was a little emotional."
3. Vanessa O'Keefe
"They had just told me he was on his way to the NICU," says O'Keefe of her first birth. "I didn't know a 10 lb. 9oz. baby could go to the NICU!"
Vanessa got extremely lucky.
Luckily, O'Keefe's second birth was a little bit smoother and she was able to smile big for the camera this time around.
Photo: Leah Outten/Photo by Katy Cook
4. Leah Outten
"Sadie was born easily in the water but she wasn't very responsive at first (blue in the face, wasn't crying), so my first picture with her I was really concerned," says Outten, a mom of four and a birthmother.
"My thoughts were, 'Please cry! Please cry! What is wrong?' After talking to her, rubbing her feet, praying over her, and breathing into her, she opened her eyes and cried for us. The middle picture is when I heard her cry for the first time and obviously was very happy to hear her little squeals after what felt like an eternity.
After that, I was in just in a state of relief physically and emotionally that all was done and well."
Previous
Next
BEGIN