Photo: WeHeartIt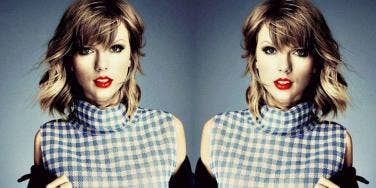 Is she really trying to get women to "stick together?"
Taylor Swift might not be able to maintain her interpersonal relationships that well, but she doesn't have any trouble writing hit songs. Currently, her single "Bad Blood" is another number one hit, and the video for it was nominated for MTV's Video of the Year.
A big part of the song and video's appeal is the all-girl gang Swift put together for the "Bad Blood" music video. She teams up with a gang of fellow pop stars and actresses to take revenge on a girl, played by her real-life BFF Selena Gomez, who has wronged her.
Swift has made it clear that she thinks women should stick together, and this video seems to be a pretty obvious representation of that.
The problem is, Swift has made it clear that the target of the song and video are a specific person. She hasn't said who, but she's made it pretty clear that it's about Katy Perry.
The feud supposedly started over some back up dancers that Perry may or may not have stolen from Swift's tour. Whether or not Perry actually stole the dancers is unclear, and it all may be a misunderstanding.
Also, Perry is currently dating John Mayer, one of Swift's ex-boyfriends. In the past, Swift has had problems dealing with her ex-boyfriends dating new people.
Knowing this, the question becomes: "Is Taylor Swift's girl squad really empowering?" This isn't girls sticking together; this is a bunch of girls teaming up against another girl.
Swift has literally pitted herself and a bunch of her contemporaries against a fellow female performer. Since Swift won't actually say that she's going after Perry, Perry can't really defend herself.
She still has to deal with the embarrassment, however, because Swift made everything just obvious enough. Of course, Swift has set herself up as the leader of the clique, as the video's target is someone who's gotten on only Swift's bad side.
Swift's go-to response when she thinks she's being criticized by another women is to say that women should stick together. Which is a good idea, but she doesn't seem to have a problem going after other women herself.
It seems like what Swift really means to say is, "Women should stick together, but they should most of all stick by me." At that point, doesn't it feel less like empowerment and more like bullying?
1. Her feud with Nicki Minaj was absolutely absurd.
When Nicki Minaj tweeted that only videos celebrating women with thin bodies got nominated for the MTV VMAs Video of the Year, Taylor assumed Minaj was referring to "Bad Blood" getting nominated.
She blasted Minaj for pitting women against each other, despite the song itself, as well as the video it inspired, being based on women attacking other women. Minaj responded by saying she wasn't talking about Swift, and the whole thing settled down.
2. Her "Bad Blood" video was ridiculous.
What's interesting about Swift's response, is that "Bad Blood" is a song about another woman who Taylor claims stole a bunch of her dancers from her Red tour.
While she hasn't said specifically who it's about, it's pretty obviously about ...
3. Her feud with Katy Perry, which is insane.
Katy Perry, who also happens to be dating Swift's ex, John Mayer, has fallen victim to Swift's mean girl act, even calling her out for being a "Regina George in sheep's clothing."
Perry responded to Swift's tweet about not pitting women against other women by calling out Swift for doing that very thing to her.
Swift filled the video with a bunch of other female entertainers and made it clear who wasn't invited. It all screams, "You can't sit with us!"
Photo: Hari Om Productions
4. Taylor Swift slut-shamed Camilla Belle.
Joe Jonas' former girlfriend, Camilla Belle, tweeted support to Perry. Why?
Maybe because after Joe Jonas dumped Taylor Swift for Belle, Swift responded with the song "Better Than Revenge," in which she described Belle as such: "She's not a saint / And she's not what you think / She's an actress / But she's better known for things that she does on the mattress."
This is infuriating for a number of reasons: One, as Swift later pointed out herself, no one can "steal" a boyfriend from you.
Two, Jonas revealed that he lost his virginity to Ashley Greene, who he dated after Belle, so Swift's slut-shaming wasn't even accurate in this case.
Three, Swift has since admitted she regrets writing the song, but never apologized to Belle for it. And Belle still gets hate from psychotic Swift fans on Twitter about this.
5. Taylor Swift launched a (left) shark attack.
After tweeting at Nicki Minaj about how women shouldn't be pitted against each other, Swift performed the "Bad Blood" with a dancing shark projected on stage.
The shark was the same shark that went viral after being a part of Katy Perry's Super Bowl halftime show. Even though Swift still hasn't specifically stated Perry as the inspiration for "Bad Blood," this reference is pretty obvious. You can watch it here.
6. She attacked actual feminists Amy Poehler and Tina Fey...
This isn't the first time Swift has come after other women for not sticking up for other women.
At the 2013 Golden Globes, hosts Tina Fey and Amy Poehler made a joke about Swift's dating habits.
Swift later commented that there was a special place in hell for women who insult other women ... despite, you know, Tina Fey and Amy Poehler hiring and breaking barriers for funny women everywhere.
7. Tina showed her that girl power also means a sense of humor.
At the following year's Golden Globes, Tina Fey grabbed the mic during Amy Poehler's acceptance speech and joked that there was a special place in hell for Poehler.
8. Taylor Swift has creepy rules for her "girl squad."
Basically, no one is allowed to be more famous than Taylor Swift. And if they are, they better be wearing a crappy outfit.
That doesn't sound too mature, uplifting, or feminist to us. With friends like that, who needs enemies?
9. Even her choice in friendships seems a little spiteful.
Taylor Swift made sure to befriend Cara Delevingne and Kendall Jenner — and to be very public about it — possibly as a means to spite Harry Styles, who she also attacked with passive aggressive gestures, interviews and live performances.
C'mon, Swifty, do better.
10. Taylor Swift's best friend is her publicist.
From her ever-present Tumblr likes to her carefully crafted Instagram photos with her friends (which only recently began including women of the color after she was called out on it on, yes, Tumblr), Taylor Swift is easily the most image-obsessed, calculating pop star on the planet.
Even her awesome deeds, like her charity work, are somehow diluted when she posts it to YouTube.
It's unclear whether Swift has intrinsic motivations for anything other than petty drama and pats on the back, but being America's Sweetheart is going to get much harder the more people realize that, for once, Katy Perry might be right about something ... even if "unmeasurably" isn't a word.
Previous
Next
BEGIN