Photo: Instagram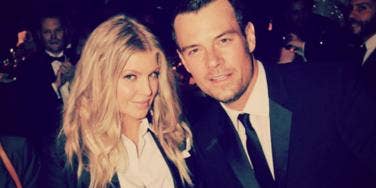 Who DOESN'T want to marry their crush?
We've all had a celebrity crush at one point or another. And who hasn't had a daydream or two about one day being Mrs. Timberlake or Mrs. Gosling? Well, these celebs proved that marrying your celebrity crush is definitely possible.
From Katie Holmes, who kept a photo of Tom Cruise hidden in her textbook as a teen, to Kanye West, who drew himself onto the Kardashian Christmas card, these celebs made their daydreams a reality.
Check out our list of other celebs who married their crush:
1. Josh Duhamel & Fergie
Before dating the Black Eyed Peas singer, Josh Duhamel admitted to having a dream about Fergie. Well, his dream came true. The couple is now married and has one son, Axl.
2. Kate Middleton & Prince William
Marrying a prince is every girl's fantasy, even Kate Middleton. According to rumors, Kate had a poster of William on her dorm walls way before meeting the future king.
3. Katie Holmes & Tom Cruise
Before the whirlwind romance (couchjumping and all) that was Tom Cruise and Katie Holmes, the Dawson's Creek star would keep a picture of the movie star hidden in her textbook. Friends also revealed that Catholic schoolgirl Katie would say prayers to keep Tom safe. It seemed like a fairy tale ending for Katie, but the couple divorced in 2012.
4. Linda Cardellini & Steven Rodriguez
'Freaks and Geeks' star Linda Cardellini is engaged to Steven Rodriguez, who was her childhood crush. In an interview with People, Linda admitted to liking her fiancé since the age of 10. "He was 11. He was the new kid at my school," she said. "He could do amazing bike tricks, and I was impressed. Not afraid to say it." The couple reconnected three years ago and have a 15-month-old daughter together.
5. Jennifer Aniston & Brad Pitt
Brad Pitt and Jennifer Aniston met on a blind date, but years before their first meeting, the 'Friends' actress would write about her "future husband" Brad in her diary. Although the two eventually got married, the relationship ended in divorce.
6. Kanye West & Kim Kardashian
Kanye West admitted to crushing on the reality star for years before the two started dating. Kris Jenner revealed on her talk show that the rapper would draw himself into the family Christmas card to profess his love for Kim Kardashian. Kanye also admitted to falling for Kim when he first saw her in a photo with ex-BFF Paris Hilton in 2006! The couple is married with their daughter North, and Kim is pregnant baby number two, a boy.
7. Sandra Bullock & Jesse James
Before meeting the 'Monster Garage' star Sandra Bullock was a huge fan of Jesse James The two met after Sandra took her godson to visit the set of the reality show. The couple did get married, but divorced after Jesse admitted to cheating on the Oscar winner with multiple women.
8. Jennifer Lopez & Marc Anthony
It is rumored Jennifer Lopez had a major crush on Marc Anthony way before they tied the knot The Puerto Rican singers had worked together before getting together, and got married just four days after Marc's divorce was finalized. The couple welcomed twins Max and Emme before divorcing in 2012.
9. Kelly Preston & John Travolta
Kelly Preston knew John Travolta would be her husband. "I came out of a film, saw the poster for Grease and I knew I'd be with him. I just knew." Kelly said. The couple has been married for over 20 years, and have two children together. Their oldest son, Jett, died tragically in 2009.
10. Carmelo Anthony & La La Anthony
Long before marrying La La, Carmelo Anthony had a crush on the MTV host He asked a mutual friend to set up him up on a blind date, and the rest was history. The couple also have a 6-year-old son, Kiyan, together.
11. Katy Perry and Russell Brand
In an interview Katy Perry dished that hubby Russell Brand was her celebrity crush. "I've said Justin Bieber was my celebrity crush quite a few times, but I think I'm over it now. I think it's probably safe to say I married my celebrity crush." However, the couple has since divorced, and Katy is now dating John Mayer.
Previous
Next
BEGIN