Photo: WeHeartIt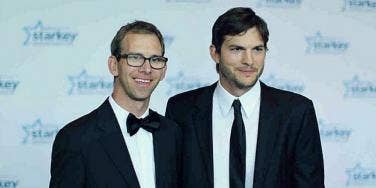 These famous faces are part of a package deal!
Everyone knows and recognizes Mary-Kate and Ashley Olsen, Tia and Tamara Mowry, Jonathan and Drew Scott, right? Because let's face it, some celebrity twins are so well known as a pair that their names almost don't sound right when said separately. But did you know there are so many more celebs out there who are also one half of a dynamic duo?
We were shocked to find out just how many other major stars are twins. Who would ever think that these famous faces would have to share the spotlight with anyone? It turns out, they do on at least one day a year — their birthdays! That's right, some of the biggest stars you know and love, like Scarlett Johansson, Ashton Kutcher and Vin Diesel, are all part of a package deal — at least in the eyes of their families. Also, it's surprising to find out how many of their siblings work in entertainment industry or some other highly creative field. It's easy to see that talent must really run in the family!
Want to know more about these stars' fraternal other halves? Read on to find out what these celebs' siblings are all about. You might even recognize a few!
Gisele and Patricia Bundchen
Gisele is the older of the fraternal twins by five minutes. Patrícia now acts as her older sister's manager.
Alanis and Wade Morissete
Alanis is also the older sibling. Her twin brother Wade is a musician as well, in addition to being a yoga instructor, author and therapist.
Jon and Dan Heder
Jon (best known for Napoleon Dynamite) isn't the only one in the family with a Hollywood gig. His twin brother Dan works in visual effects.
Kiefer and Rachel Sutherland
Kiefer made it big as an actor in America. His twin sister Rachel works in TV production in Canada.
Samantha and Charlotte Ronson
Samantha doesn't have the corner on talent in the Ronson family. Her sister Charlotte is a fashion designer.
Joel and Benji Madden
Joel might be the more famous brother since his marriage to Nicole Richie, Benji is also a musician. Both twins are members of the rock band Good Charlotte.
Parker and Christopher Posey
The Queen of the Indies' twin brother tends to stay out of the spotlight.
Scarlett and Hunter Johansson
Scarlett's twin brother appeared alongside her in Manny & Lo
Aaron and Angel Carter
While Aaron works on his singing career, Angel works as a model.
Nicholas Brendon and Kelly Donovan
These twin brothers are so perfectly identical that Kelly actually stood in for his brother on two episodes of Buffy The Vampire Slayer.
Judy and Joselin Reyes
Both sisters acted in medical roles on TV shows. Judy as Carla on Scrubs and Joselin as a paramedic on Law and Order: SVU.
Ashton and Michael Kutcher
Ashton's fraternal twin brother Michael was diagnosed with Cerebral Palsy at a young age. When he had to undergo a heart transplant at age 13, Michael said Ashton never left his side.
Vin Diesel and Paul Vincent
Vin Diesel's fraternal twin brother Paul also works in the entertainment industry as a film editor.
Aaron and Shawn Ashmore
Both twins are actors. Shawn starred as Iceman in the X-Men films. Aaron is best known for his role in the former WB series, Smallville.
Previous
Next
BEGIN